Known as the 'Reine Elisabeth', this is the most expensive instrument bought by the Dutch Musical Instruments Foundation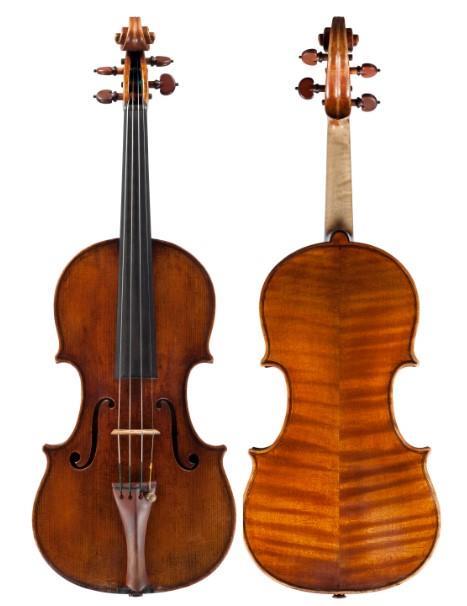 The Strad's 2022 Calendar celebrates the work of the Dutch Musical Instruments Foundation, which in the past three decades has helped around 2,500 musicians gain access to a top-quality instrument. At any one time, more than 400 musicians play on an instrument (and/or a bow) from the foundation on a long-term loan. Some of the rare instruments featured in this year's Calendar include Antonio Stradivari's c.1716 'Paul Godwin' violin, made in the master luthier's 'golden period'; a c.1736 Guarneri 'del Gesù', valued at €3.5 million; and the 'ex-Navarra' Guarneri 'filius Andreae' cello of 1715, formerly owned by the virtuoso André Navarra.
Pietro Guarneri of Venice violin 1725
In 1717 Pietro, the older brother of Guarneri 'del Gesu', left Cremona for the east-coast city where he remained for the rest of his life. A reason for his early departure could be because Cremona was dominated by the Stradivari workshop, while Venice had a rich musical culture with many well-known makers. The model of this 1725 violin is slightly long, with a back length of 357mm, and this elongated look is enhanced by the long and fluid f-holes. The smaller upper eye and wing flow smoothly down towards the much larger eye with a broader pointed lower wing. The scroll is very wide with the often-copied characteristic small gouge marks appearing as it enters the second turn, leading all the way up to the eye. This violin is the most expensive ever bought by the Foundation, and owes its name 'Reine Elisabeth' to Queen Elisabeth of Belgium, who died in 1965. The violin had been in the possession of Carlo van Neste, a Belgian violinist of world fame, for the past decades. Queen Elisabeth made the money for the violin available to Van Neste 'out of friendship and gratitude'.
The Strad Calendar 2022 is now available at The Strad Shop
Photos: Cathy Levesque