The Gagliano scroll is a perfect example of the Neapolitan style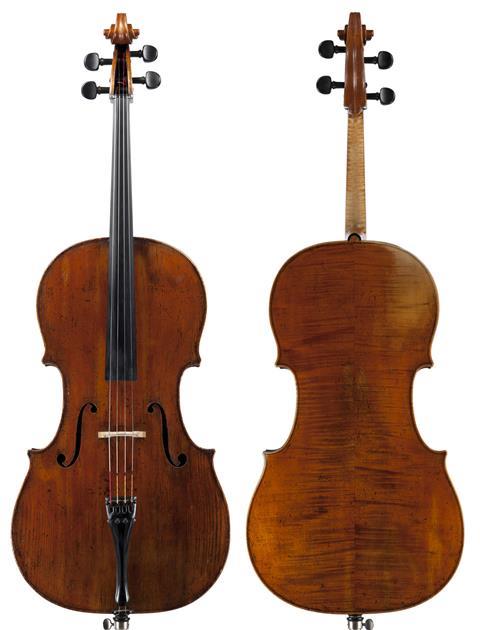 The Strad's 2022 Calendar celebrates the work of the Dutch Musical Instruments Foundation, which in the past three decades has helped around 2,500 musicians gain access to a top-quality instrument. At any one time, more than 400 musicians play on an instrument (and/or a bow) from the foundation on a long-term loan. Some of the rare instruments featured in this year's Calendar include Antonio Stradivari's c.1716 'Paul Godwin' violin, made in the master luthier's 'golden period'; a c.1736 Guarneri 'del Gesù', valued at €3.5 million; and the 'ex-Navarra' Guarneri 'filius Andreae' cello of 1715, formerly owned by the virtuoso André Navarra.
Gennaro Gagliano cello 1734
Three years after the Foundation's creation, it was able to purchase this cello from the Röntgen collection. The cello had been owned by the Röntgen family since 1914 and was played by Engelbert Röntgen, solo cellist of the Metropolitan Opera in New York, and later by his half-brother Edvard Röntgen. The cello is made from rather sober wood with an uneven flamed maple back and a spruce front carved from a coarse-grained blank which starts quarter-sawn at the centre but quickly flows into a rift-sawn cut ending in extremely wide grain in the lower wings with nearly 10mm between the growth rings. Where his father Alessandro made more classical instruments of bigger proportions with a rich oil varnish, Gennaro and his brother Nicolò opted for a deeply coloured varnish with less texture, although still of excellent quality. Gennaro was the most versatile maker in the family but his scroll, made from a practically plain piece of maple, is a perfect example of the Neapolitan style, which shows his exceptional woodworking skills; a straight-up pegbox with an evenly concentric spiral which is protruding outwards, making it the eye-catcher of this cello.
The Strad Calendar 2022 is now available at The Strad Shop
Photos: Cathy Levesque