This viola is regarded as an exceptionally pure and unique specimen among Vuillaume's work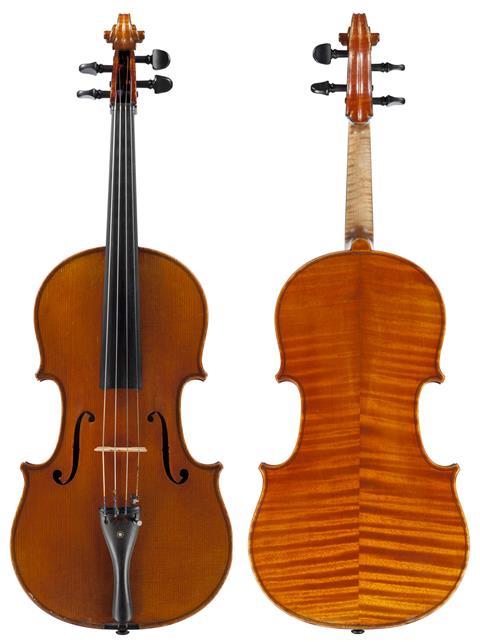 The Strad's 2022 Calendar celebrates the work of the Dutch Musical Instruments Foundation, which in the past three decades has helped around 2,500 musicians gain access to a top-quality instrument. At any one time, more than 400 musicians play on an instrument (and/or a bow) from the foundation on a long-term loan. Some of the rare instruments featured in this year's Calendar include Antonio Stradivari's c.1716 'Paul Godwin' violin, made in the master luthier's 'golden period'; a c.1736 Guarneri 'del Gesù', valued at €3.5 million; and the 'ex-Navarra' Guarneri 'filius Andreae' cello of 1715, formerly owned by the virtuoso André Navarra.
Jean-Baptiste Vuillaume viola 1867
Vuillaume wore many hats: luthier, collector, inventor, connoisseur, businessman and dealer. He was without question the most successful French luthier and employed over 30 violin and bow makers, many of whom became successful makers in their own right. From high-quality copies of Amati, Guarneri, Maggini and Stradivari to student instruments, his workshop produced over 3,000 instruments and this 1867 viola bears number 2686. Modelled after Stradivari with a back length of 413mm giving it perfect modern proportions, this viola is regarded as an exceptionally pure and unique specimen, partly because Vuillaume produced few violas. Unlike many of Vuillaume's other instruments, this viola is not antiqued and still shows crisp edgework and corners and most of its blackened chamfer around the scroll. When purchased by the Foundation in 2002, the original tuning pegs and tailpiece with hand-carved decorations were still on the instrument; the Foundation had the original parts replaced and preserves them in its archive.
The Strad Calendar 2022 is now available at The Strad Shop
Photos: Cathy Levesque