One notable feature of the Stradivari is the angled grain when looking at the side of the scroll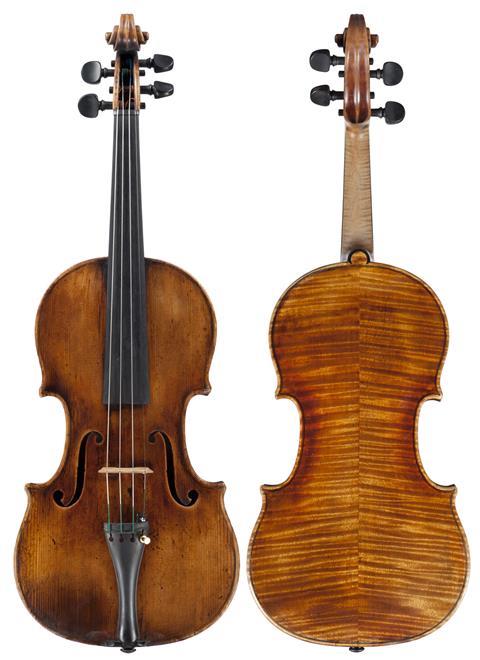 The Strad's 2022 Calendar celebrates the work of the Dutch Musical Instruments Foundation, which in the past three decades has helped around 2,500 musicians gain access to a top-quality instrument. At any one time, more than 400 musicians play on an instrument (and/or a bow) from the foundation on a long-term loan. Some of the rare instruments featured in this year's Calendar include Antonio Stradivari's c.1716 'Paul Godwin' violin, made in the master luthier's 'golden period'; a c.1736 Guarneri 'del Gesù', valued at €3.5 million; and the 'ex-Navarra' Guarneri 'filius Andreae' cello of 1715, formerly owned by the virtuoso André Navarra.
Antonio Stradivari violin c.1716 'Paul Godwin'
In 2011 the Foundation had the opportunity to buy a c.1716 Antonio Stradivari violin from the Oskar Back Foundation collection, which had been loaning it to the winner of the annual National Violin Competition. The years 1715 and 1716 are often seen as Stradivari's peak, with such fine examples as the 'Alard, Baron Knoop', and the most famous violin in existence, the 'Messiah'. One notable feature is the angled grain when looking at the side of the scroll. Unfortunately this violin has a later front by an unknown maker. The violin is named after Paul Godwin, who in 1933 fled Germany for the Netherlands and ended up playing in several ensembles. The crowning achievement of his career is a concert he gave in Amsterdam in November 1972. He played the viola part in Mozart's Sinfonia concertante together with Yehudi Menuhin and the conductor Anton Kersjes.
The Strad Calendar 2022 is now available at The Strad Shop
Photos: Cathy Levesque