The Guarneri 'filius Andreae' must be the most impressive Cremonese cello in terms of maker's marks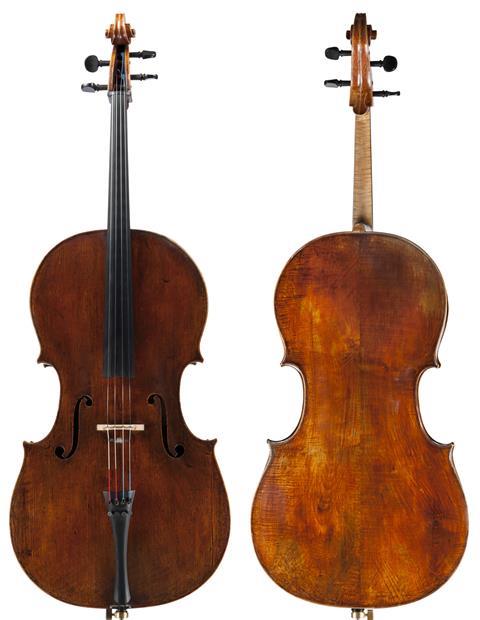 The Strad's 2022 Calendar celebrates the work of the Dutch Musical Instruments Foundation, which in the past three decades has helped around 2,500 musicians gain access to a top-quality instrument. At any one time, more than 400 musicians play on an instrument (and/or a bow) from the foundation on a long-term loan. Some of the rare instruments featured in this year's Calendar include Antonio Stradivari's c.1716 'Paul Godwin' violin, made in the master luthier's 'golden period'; a c.1736 Guarneri 'del Gesù', valued at €3.5 million; and the 'ex-Navarra' Guarneri 'filius Andreae' cello of 1715, formerly owned by the virtuoso André Navarra.
Giuseppe Guarneri 'filius Andreae' cello 1715 'ex Navarra'
The 1715 cello must be the most impressive Cremonese cello in terms of maker's marks. Particularly the slab-cut maple back, with its knots and some twisty grain, is a sight to behold. It still retains its original length of 774mm and is fully covered in (tooth)plane marks. leaving a pattern that shows the method and efficiency by which Giuseppe made this cello. This flow of work continues in the scroll and to a lesser extent in the front, where he cleaned some of the toolmarks with a scraper. The edgework and corners on this cello are still crisp and, together with the knife marks, form a 'guidebook' for future violin makers on how to make classical Cremonese edges. This cello has been passed down from teacher to student in the past few decades, starting with French cellist André Navarra, after whom the cello is named. In 1998, cellist Quirine Viersen came to the Foundation asking whether it would be possible for it to acquire this cello for her. At that time she had the instrument on loan from her teacher, Heinrich Schiff, who in turn had acquired it from his teacher Navarra. With the help of several Dutch foundations the Foundation was able to buy this magnificent cello in 1998 and it has been in Viersen's talented hands ever since.
The Strad Calendar 2022 is now available at The Strad Shop
Photos: Cathy Levesque