Santo Serafin's refined style can be particularly seen on the scroll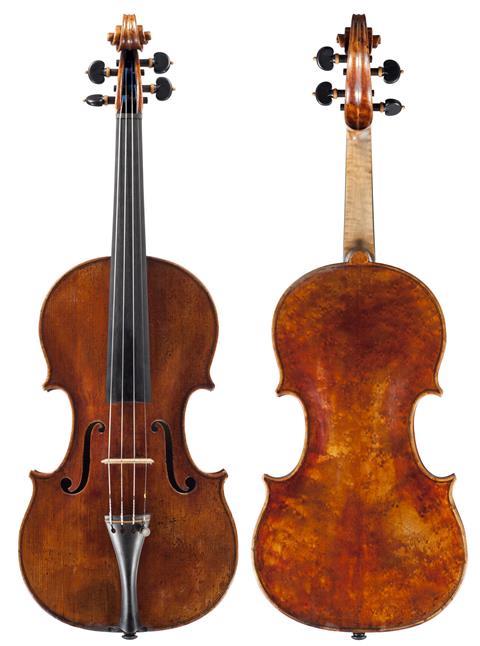 The Strad's 2022 Calendar celebrates the work of the Dutch Musical Instruments Foundation, which in the past three decades has helped around 2,500 musicians gain access to a top-quality instrument. At any one time, more than 400 musicians play on an instrument (and/or a bow) from the foundation on a long-term loan. Some of the rare instruments featured in this year's Calendar include Antonio Stradivari's c.1716 'Paul Godwin' violin, made in the master luthier's 'golden period'; a c.1736 Guarneri 'del Gesù', valued at €3.5 million; and the 'ex-Navarra' Guarneri 'filius Andreae' cello of 1715, formerly owned by the virtuoso André Navarra.
Santo Serafin violin 1750
Santo Serafin had his own style within the Venetian school: controlled, cleanly finished surfaces with a varnish colour and texture that differ from those of his local fellow violin makers. Where the Venetian school is famed for its dark craquelure, Serafin had a variety of colours ranging from a pale golden yellow to the transparent reddish-brown tint seen on this 1750 violin, which is laid over bird's-eye maple back and ribs, a choice of material often used by Serafin. His refined style and taste for delicate finishing touches is particularly seen on the scroll, which starts flat at the pegbox but flows into an expressive, full and round volute with deep cuts that end with a sharp 'hook' in the eye. The spine lies lower than the precisely chamfered edges, amplifying the articulate look. This even continues on his embellished labels which were made with a finely engraved plate; his name, date and location are decorated with ornaments and iconography, a look that is quite the opposite when comparing to other labels from 18th-century Italian makers. These refined details are a contrast with his hefty edges found on the body, particularly on his cellos which can be over 7mm thick in some places.
The Strad Calendar 2022 is now available at The Strad Shop
Photos: Cathy Levesque