The Guadagnini cello has intense deep reddish-brown varnish to spare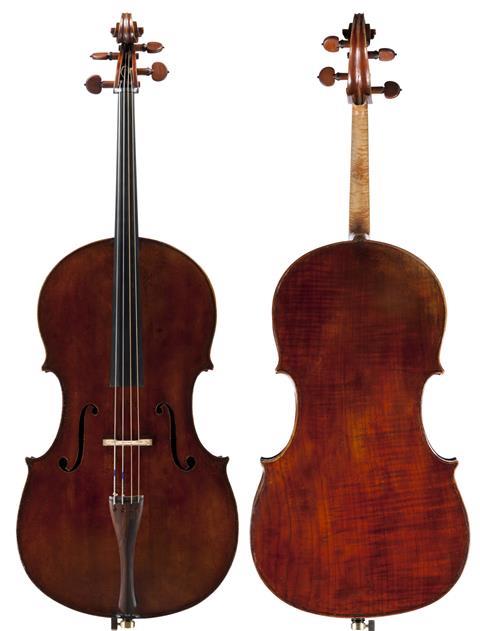 The Strad's 2022 Calendar celebrates the work of the Dutch Musical Instruments Foundation, which in the past three decades has helped around 2,500 musicians gain access to a top-quality instrument. At any one time, more than 400 musicians play on an instrument (and/or a bow) from the foundation on a long-term loan. Some of the rare instruments featured in this year's Calendar include Antonio Stradivari's c.1716 'Paul Godwin' violin, made in the master luthier's 'golden period'; a c.1736 Guarneri 'del Gesù', valued at €3.5 million; and the 'ex-Navarra' Guarneri 'filius Andreae' cello of 1715, formerly owned by the virtuoso André Navarra.
G.B. Guadagnini cello 1750
Where larger-sized cellos, often called church basses, were in favour in the 17th century, during the 18th smaller-bodied cellos were in demand. This 1750 Guadagnini is a perfect example of such a small-bodied cello with a back length of only 718mm. The lack of size is compensated by its depth, a strong and full arching with less hollowed edges and a broad outline, particularly around the chest area with widely set centre bouts and f-holes. When Guadagnini arrived in Milan in 1749 he started using an intense deep reddish-brown varnish, which this cello has to spare on the coarse-grained one-piece back. The later head is of equally small proportions and shows plenty of character in its design and execution. This cello also came to the Foundation from the Max Rodriguez collection and was bought in 1993 but with one condition: it should always be strung with gut strings.
The Strad Calendar 2022 is now available at The Strad Shop
Photos: Cathy Levesque