With a handsome, deeply reflective and broadly flamed maple back, this is the crown jewel in the Dutch Musical Instruments Foundation's collection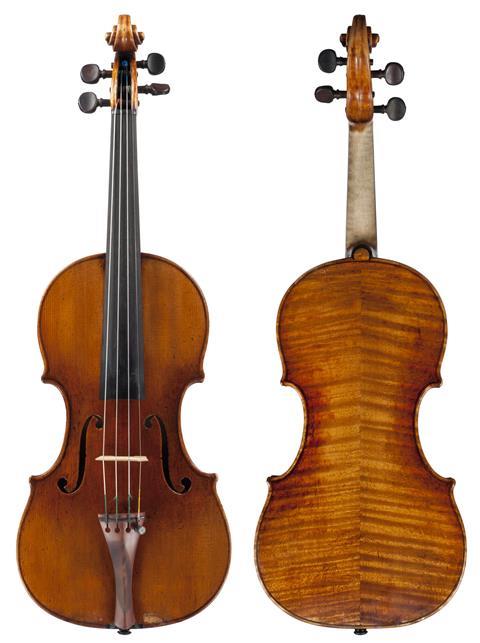 The Strad's 2022 Calendar celebrates the work of the Dutch Musical Instruments Foundation, which in the past three decades has helped around 2,500 musicians gain access to a top-quality instrument. At any one time, more than 400 musicians play on an instrument (and/or a bow) from the foundation on a long-term loan.
The Foundation was initially a private initiative, founded by the father of a talented young violinist. During the search for an instrument for his daughter he came to realise that for many musicians the purchase of a suitable instrument was completely out of reach. Since then, its support has expanded to encompass a large range of musicians: from very young, talented students to experienced professional musicians, regardless of their nationality, age, music genre or performance practice. The only condition is that they remain connected to the Dutch music life as a professional performing artist, and as long as a suitable instrument is out of their own reach.
Giuseppe Guarneri 'del Gesù' violin c.1736
This is the crown jewel of the Foundation's collection. It came, together with 16 bows and 4 other instruments (including the Guadagnini cello below) from the Max Rodriguez collection and, after a loan period of five years, in 1997 nearly the entire collection was donated to the Foundation. It's still the largest donation it has ever received. The model is very similar to the 1736 'Pasquier' and is slightly shy in its back length at 351mm, like other instruments in this period. The same can be said about the sharp-looking f-holes. They are similar but ever so slightly narrower than those of the 1738 'Kemp'. The scroll, which shows the hand of his father, is made from a plainer maple and very classical; quite gentle compared to the wild and eccentric scrolls that were about to come in the last few years of his life. Unfortunately the edgework is worn and has lost its 'crispness' for which he is known, but the handsome, deeply reflective and broadly flamed maple back makes up for that.
The Strad Calendar 2022 is now available at The Strad Shop
Photos: Cathy Levesque