The Rocca is clearly modelled after the most famous Stradivari violin, the 'Messiah'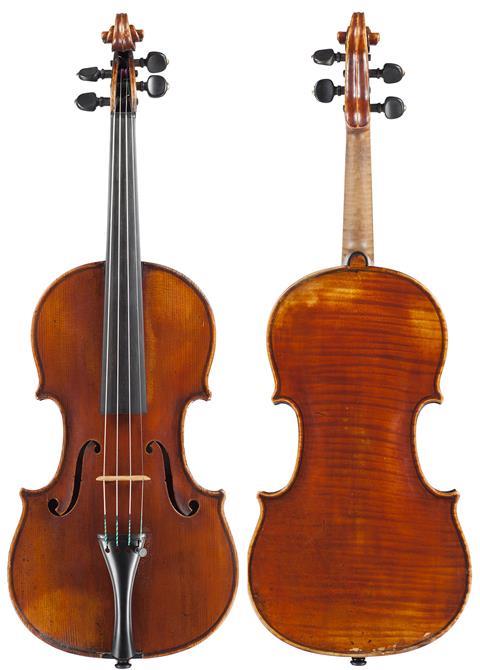 The Strad's 2022 Calendar celebrates the work of the Dutch Musical Instruments Foundation, which in the past three decades has helped around 2,500 musicians gain access to a top-quality instrument. At any one time, more than 400 musicians play on an instrument (and/or a bow) from the foundation on a long-term loan. Some of the rare instruments featured in this year's Calendar include Antonio Stradivari's c.1716 'Paul Godwin' violin, made in the master luthier's 'golden period'; a c.1736 Guarneri 'del Gesù', valued at €3.5 million; and the 'ex-Navarra' Guarneri 'filius Andreae' cello of 1715, formerly owned by the virtuoso André Navarra.
Giuseppe Antonio Rocca violin 1844
Rocca was born in 1807 in Barbaresco, Alba, and around the age of 30 he moved to Turin and became a pupil and assistant of G.F. Pressenda. Both have a legitimate shot at claiming the title of best 19th-century Italian violin maker. Rocca had access to the 1716 'Messiah' because of his contacts with Luigi Tarisio. The 1844 violin shown here is clearly modelled after the most famous Strad violin, particularly in the stance of the f-holes. A twin of this 1844 Rocca violin is published in the 2016 book The Absolute Stradivari: the 'Messie', which shows that he was possibly one of the first luthiers to be inspired by this violin. He studied and adopted some of its features but stayed away from making a replica, as evidenced in the scroll which has its own individual style: a narrow pegbox with a tilted head. The eye ends on both sides of the volute out of centre. This violin is made in the same year that Rocca was awarded the copper medal at the Turin exhibition.
The Strad Calendar 2022 is now available at The Strad Shop
Photos: Cathy Levesque