This large and beautiful-sounding viola features a one-piece spruce front with unusually wide grain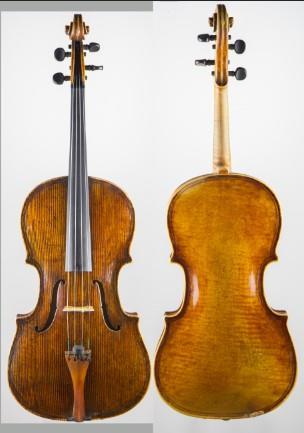 Click here to purchase The Strad Calendar 2023
In the past few years, Australia has become a classical music heartland with a number of its orchestras and ensembles achieving world renown. Many of its string players now perform on world-class instruments made by some of the most respected luthiers ever to have lived. The Strad Calendar 2023 celebrates some of those collections, with top instruments played by members of the Australian Chamber Orchestra, Melbourne Symphony, Australian String Quartet and some of the country's greatest soloists.
c.1610 Maggini viola
In addition to its MSO Live online series, the Melbourne Symphony Orchestra has had a facelift in the form of a new chief conductor: Jaime Martín joined the ensemble in 2022. Its principal violist Christopher Moore is also the creative producer of the MSO Chamber Series, featuring MSO musicians (and friends) in intimate performances throughout the year. Moore has been playing a c.1610 Maggini viola, on loan from a benefactor, since he was playing with the ACO.
This large and beautiful-sounding viola features a one-piece spruce front with unusually wide grain. The back is also in one piece, slab-cut from handsomely figured and flamed maple. The scroll is original. The varnish is a rich dark orange–brown laid over a lighter golden ground. Like most of Maggini's early violas it has been cut down, though the C-bouts appear to be original.