The wood used for the front came from a 250-year-old tree, making parts of this beautiful instrument around 700 years old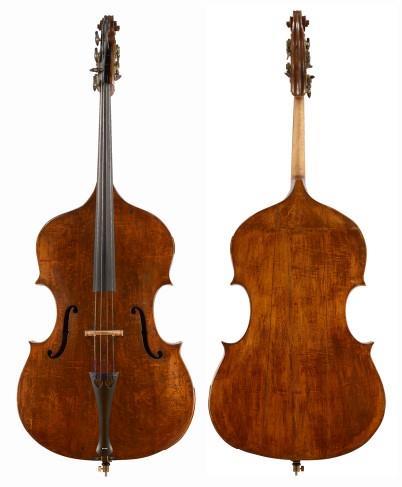 In the past few years, Australia has become a classical music heartland with a number of its orchestras and ensembles achieving world renown. Many of its string players now perform on world-class instruments made by some of the most respected luthiers ever to have lived. The Strad Calendar 2023 celebrates some of those collections, with top instruments played by members of the Australian Chamber Orchestra, Melbourne Symphony, Australian String Quartet and some of the country's greatest soloists.
c.1585 Gasparo da Salo double bass
The c.1585 Gasparo da Salò double bass is the oldest instrument currently played in the Australian Chamber Orchestra (ACO). It is believed that the decorated bass may have had only three owners: its earliest known provenance is the Augustinian abbey of Neustift in northern Italy, where it may have resided for hundreds of years. The abbey was bombed during World War II but miraculously the instrument survived. It was sold to German bass player Günter Klaus in 1970 and then in 2012 it was purchased by an anonymous benefactor, joining the ACO's family of instruments as the oldest instrument at over 430 years of age.
The wood used for the front of the bass came from a 250-year-old tree, making parts of this beautiful instrument around 700 years old. It has an uplifting, resonant sound and is now being played by the ACO's Maxime Bibeau, who says: 'You can really hear and feel the maturity of the instrument. As well as having an incredibly beautiful and robust tone, it has a large sub-woofer-like quality that lifts the sound of the orchestra to another level.'
Click here to purchase The Strad Calendar 2023
Read more lutherie articles here