This violin has a handsome one-piece back with the flame ascending from left to right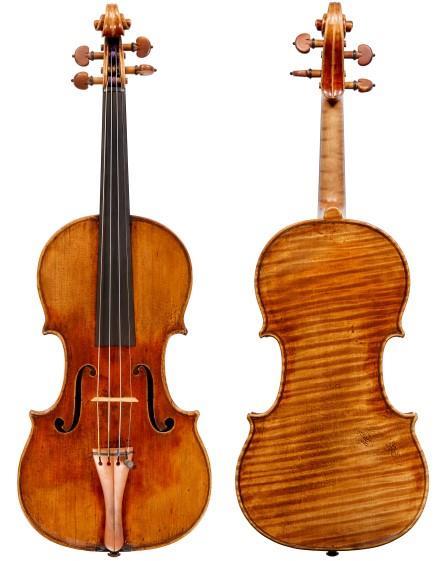 In the past few years, Australia has become a classical music heartland with a number of its orchestras and ensembles achieving world renown. Many of its string players now perform on world-class instruments made by some of the most respected luthiers ever to have lived. The Strad Calendar 2023 celebrates some of those collections, with top instruments played by members of the Australian Chamber Orchestra, Melbourne Symphony, Australian String Quartet and some of the country's greatest soloists.
c.1709 'Scotta' Stradivari violin
The c.1709 'Scotta' Stradivari is already familiar to readers of The Strad, being the principal performing instrument of Pekka Kuusisto (see August 2022's cover story). It is on loan through Tarisio to the Finnish soloist from an Australian collector, familiar with Pekka's work from earlier Australian tours. Its first known owner was the Danish soloist Frida Scotta (1871–1948). In the 1930s it was sold to Barbara Kempner, who played in the Busch Ensemble, founded in the 1940s by the violinist Adolf Busch, co-founder of the Marlboro Music Festival. The violin was bequeathed to the festival in the 1980s, where it stayed until 2021.
During his 'golden period', Stradivari made the backs of several of his finest instruments from a single log, cut on the quarter with a striking flame. This violin has a handsome one-piece back with the flame ascending from left to right. According to Peter Ratcliff the front is from the same log as was used for 'La Pucelle', 'King Carlos', 'Viotti', 'Greffuhle' and 'Wieniawski', all from 1709. The beauty of the violin is matched by its glorious and flexible tonal qualities.
Click here to purchase The Strad Calendar 2023
Read more lutherie articles here