Formerly owned by Isolde Menges, this instrument might also bear the hand of Guarneri 'del Gesù'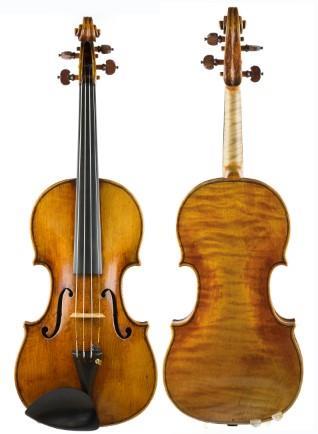 In the past few years, Australia has become a classical music heartland with a number of its orchestras and ensembles achieving world renown. Many of its string players now perform on world-class instruments made by some of the most respected luthiers ever to have lived. The Strad Calendar 2023 celebrates some of those collections, with top instruments played by members of the Australian Chamber Orchestra, Melbourne Symphony, Australian String Quartet and some of the country's greatest soloists.
1714 Guarneri 'filius Andreae' violin
Another of the Australian Chamber Orchestra (ACO) Instrument Fund's assets is a 1714 violin by Giuseppe Guarneri 'filius Andreae', formerly owned by the famed British violinist and teacher Isolde Menges. Only around 250 'filius Andreae' violins survive, but what makes this example more unusual is that the maker's son, Guarneri 'del Gesù', is also likely to have had a hand in its crafting. The back is made from one piece of slab-cut maple, with a different piece used for the ribs and head. The front is of fine-grained spruce, opening slightly on the flanks. The orange–red varnish is in good condition and the violin is in a fine state of preservation. It has a dark, soulful sound, capable of great sweetness, and is currently being played by the ACO's Maja Savnik.
Click here to purchase The Strad Calendar 2023
Read more lutherie articles here