Upon stumbling across a portrait of an unnamed musician, Kevin MacDonald delved into the lives of several female violinists in the 18th-century, all with fascinating stories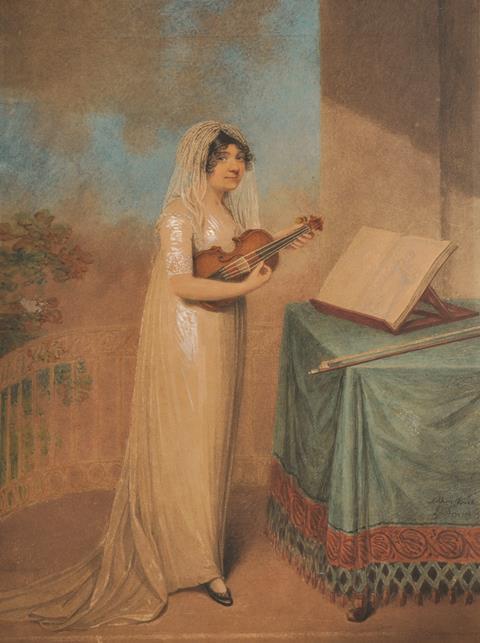 Discover more Featured Stories like this in The Strad Playing Hub
This is an extract from an article first published in the August 2021 issue of The Strad
Five years ago, in a Surrey saleroom, I came across a Regency portrait of a female violinist by the great Anglo-Irish portrait artist Adam Buck signed and dated 'London, 1805'. This launched a search to find out just who the depicted artist might be, and ultimately opened my eyes to a neglected world of female concert violinists in Georgian England.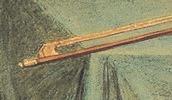 Beginning with the image itself (left), a watercolour/pastel with the blue sky typical of so many Buck portraits, we see a standing figure in an elegant white gown typical of the Regency period. She is of uncertain age, but certainly not a youth, perhaps in her thirties or forties with no wisps of grey in her hair. She holds an Amati-esque violin. On the table before her is a bow with an ivory frog and adjuster of a style used on 'Cramer' bows by the Tourtes and others in the 1770s and 80s. It is tightened and has no visible camber (see close-up, right). All in all, a trifle 'old-fashioned' for 1805. On a music stand is a book opened to its title page which comprises an illustration of a classically rendered woman holding a lyre and the word 'CONCERTOS' at the top.
Generally speaking, we know that Buck painted the bon ton of the Regency world, the aristocracy, the celebrities. Who could this concerto-playing figure be? I began researching female violinists giving concerts in Georgian London and there were more than you might think, all with fascinating stories. Yet, without exception, they were born on the Continent, and either only toured in Britain, or were blown by the chaos of the French Revolution to relatively permanent relocation in England.
Possible Personalities
Perhaps the first female violinist to feature in London concerts was Gertrud Schmeling (1749–1833). Hailing from a musical family in Hesse-Kassel, she was taken under the wing of C.F. Abel and Giardini after a successful tour of the Low Countries, and played in Soho, London, in 1760 as an eleven-year-old prodigy. Shortly thereafter she was invited to perform at the royal court. However, her violinistic career did not last, shifting under substantial prejudices against female instrumentalists to an illustrious singing career as 'Madame Mara' post-1763. Regardless, she would have been 55 or 56 years old by the time of our portrait.
One of the best-known female violinists of the era was the great Regina Strinasacchi (1761–1839), who famously premiered Mozart's Violin Sonata K454 in 1784, with Mozart playing from blank sheets at the keyboard. In a 1785 letter to his daughter, Nannerl, Leopold Mozart wrote, 'No one can play an Adagio with more feeling and effect than she does.' She also was the subject of a well-known silhouette depiction, playing her violin beside a music stand, as shaped by Hauk in 1795. However, there is no evidence that she ever visited London during her playing career. Instead, she married the cellist Johann Conrad Schlick in 1785 and together they became attached as musicians at the Gotha court. Subsequent absences for touring appear to have been strictly continental, including Italy, Austria and Russia.
There are two other prominent female violinists of the era, notably Henriette Larrivée (1764–1839) and Marianne Crux (1771–1855) who, although sometimes in London, were not present there in the years immediately before or after 1805. Larrivée came to London in 1791 as part of a trio of family musicians with her father, Henri (a baritone), and sister Camille Delaval (a harpist). She also sometimes performed as a soloist. By 1799, with political conditions stabilising in France, she had returned to her native Paris with her husband, the composer Antonio Borghese.
Marianne Crux (later Petersén), daughter of a ballet master, was born in Mannheim and was schooled from an early age as a singer and violinist, but principally the latter. Her violin teacher was Friedrich Eck and she was known to the Mozarts. Like Schmeling, she was a noted prodigy before her teenage years. She won plaudits at the court of Friedrich Wilhelm II in Prussia and chose to embrace the career of a travelling artist, touring across Germany, Scandinavia and England in the 1790s. In 1795, she was abandoned by her husband Jacob Gillberg, a Swedish portrait artist, and for a time was reduced to running a girls' hostel. However, she continued to perform within Sweden and was elected to the Swedish Royal Academy of Music in 1801. In 1802 she remarried, to Johan Petersén, son of a wealthy merchant of Gothenburg, and appears to have spent the rest of her long life in Sweden and northern Germany.