Though unrelated by birth, US violinists Eudice Shapiro and Frances Shapiro (later Magnes) forged parallel careers which provide a fascinating insight into the lives of female musicians during the mid-20th century, writes Tully Potter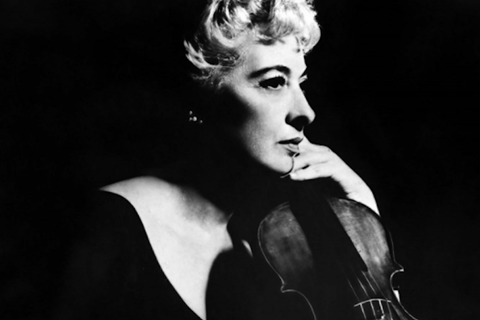 Discover more Featured Stories like this in The Strad Playing Hub
This is an extract from an article first published in the April 2021 issue of The Strad
Once upon a time there were two violinists called Shapiro. Close in age, they were not related but were aware of each other and expressed mutual admiration of the other's artistry. Their lives shed an interesting light on what it was like to be a female string player in America in the 20th century.
Eudice Shapiro was the elder, born on 7 August 1914 in Buffalo, New York, into a musical clan. 'My father, a violin teacher, was born in Buffalo,' she told me. 'My mother, a pianist, was three months old when she came to the US for my grandfather to take on the duties of cantor at a synagogue in Buffalo. They came from Riga, Latvia.
'Father studied first with Julius Singer, a Ševčík pupil. In the class he met Mother, who was the class pianist and sister of Julius. He then studied with Arthur Hartmann and finally with Ellie Levy, a concertmaster of the St Louis Symphony who invited him to join that orchestra, where he was the youngest member. He and my mom had just married, and when she became pregnant with me and wanted to return to Buffalo, they came back.'
Eudice took up the violin at four to get her father's attention. 'I resented that the students were taking up too much time, and they were all small – he loved working with little people. I decided that that was what I was going to do too.' She got dressed up, went round to the front door and rang the bell as if she were a pupil, and the ruse worked. 'I was playing already at five or six.'
Younger by five years and slightly less precocious was Frances Shapiro: born in Cleveland, Ohio, on 27 April 1919 into a music loving family, she was taught the violin from the age of six by her grandfather, who had been court violinist to Tsar Nicholas II. 'My father was a pharmacist and my mother just a very involved mother in terms of my career – perhaps too involved. I survived, but not always happily.
'My main teacher was Herman Rosen. It was a very busy childhood and I had scholarships all the time to help me work on the fiddle. Very often I got teased about it – and I take teasing very badly. I would rather have been out with kids of my own age. I had one brother. He was very musical, but because of me he got shoved a little into the background.' At 14 she made her Cleveland Orchestra debut on 4 June 1933, playing Vieuxtemps's Ballade et polonaise with Rudolph Ringwall conducting.
'My father died early. It was a terrible blow to everyone, especially my mother. It messed her up, and my brother too – he was six years younger, I was in my early twenties. It shattered us all. I was due to try out for the Leventritt Competition just a few days after he died. I played very well because you're trained to do that, but it was an awful thing to have to do.'
This article was published in the April 2021 David Garrett issue

The German violinist talks about making the most of his composition skills, and maintaining a balance between classical and crossover careers. Explore all the articles in this issue .Explore all the articles in this issue

More from this issue…