Violinist Ellie Consta reflects on her journey to uncover works by forgotten female composers as the founder and artistic director of Her Ensemble: the UK's first women and non-binary string ensemble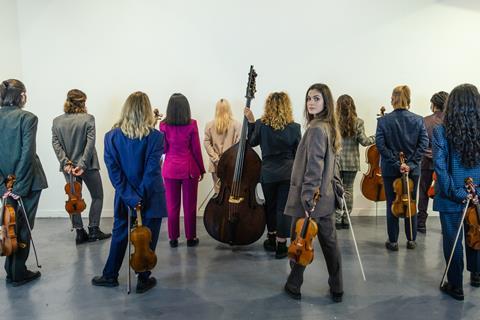 Discover more Featured Stories like this in The Strad Playing Hub
When we think of some of the 'great' composers throughout history, names like Mozart, Mahler, Schumann, Holst and Mendelssohn automatically spring to mind. But how many of us imagine the women behind these names; Nannerl, Alma, Clara, Imogen and Fanny, all equally talented composers in their own right.
It wasn't until last summer that I realised that, despite being immersed in the classical music scene for over 15 years, I could name just a handful of female composers. The majority of the concerts that I had attended consisted entirely of music written by men, I had never played a piece of music written by a woman, and not one female composer was mentioned in my specialised 'symphony' class at music college. In fact, I even presumed Boulanger was a man until very recently.
'There just haven't been as many female composers' and 'They just didn't write as much' are pretexts we hear time and time again. But these sweeping statements, although factually correct, give the false impression that female compositions are few and far between and therefore presumably secondary in quality. There are in fact over 5000 female composers that we know of dating all the way back to 450 BC, over 500 symphonies to date and countless ensemble, vocal, organ, choral works - you name it. Donne UK's recent study discovered that this year, just five percent of the classical pieces performed worldwide were written by women, the highest percentage recorded to date. So why are female composers rarely included in mainstream programming?
The reasons why there are fewer known pieces by women composers boils down to the same reasons why they still aren't programmed as much today: female composers haven't been offered the same opportunities to publish, perform and record. This can't simply be explained away as a question of meritocracy. We think of these as issues of the past, yet the same amount of time, effort, research, and funding still isn't being put into redressing the balance. This is indicative of the society we live in, where we see the same patterns being repeated again and again in different forms, all around the world. Despite the progress that has been made, we still see examples of discrimination against women and girls in all kinds of different contexts which uphold patriarchal structures and principles of gender inequality that still construct the world in which we live.
One of the founding ideas behind Her Ensemble is to redress this gender imbalance in classical music by focusing on the work of female composers, many of whom have previously been overlooked. For example, although Grazyna Bacewicz (1909-69) achieved international recognition during her lifetime, today she is largely excluded from the 20th-century canon. Florence Price (1887-1953) was the first African-American woman to be recognised as a symphonic composer and the first to have her work performed by a major orchestra. Ethel Smyth (1858-1944), a key member of the suffragette movement, faced discrimination throughout her musical career on account of her gender. Angela Morley (1924-2009) wrote prolifically across a variety of genres and won three Emmy awards for her arrangements. Moreover, Fanny Mendelssohn (1805-47), Clara Schumann (1819-96), Amy Beach (1867-1944) and Alma Mahler (1879-1964) were all forced to remain in the shadows of the men around them, and the list goes on.
Several of these composers are on the programme of Her Ensemble's debut performance, which will be celebrating a range of female composers from the past 2000 years. Entitled 'Forgotten in His tory', it takes place at Battersea Arts Centre on 17 September at 8pm. Further information and tickets are available here.