Violinist Rachel Barton Pine examines why Powell's pioneering contribution to the art of violin recording so richly deserved the Lifetime Achievement Award at the 56th Grammy Awards in 2014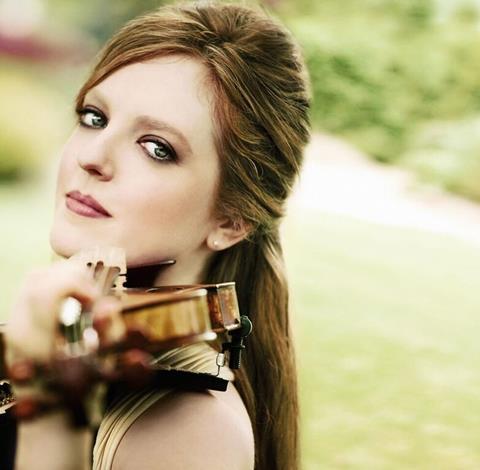 Discover more Featured Stories like this in The Strad Playing Hub
It is appropriate that Maud Powell, the first violinist to record a real violin with a recording horn, is being honoured at the Grammys in the same year as Emile Berliner, the German audio pioneer behind the gramophone. Previously violinists had had to record on a Stroh violin – basically a violin fingerboard with a metal recording horn protruding from it that served as the sound box.
Physically it was awkward to play because it was so unbalanced, and it was Maud Powell who insisted that someone figure out how to record a real violin. Because of her status she was taken seriously, and in 1904 she went into the studio with her violin and became the Victor Company's first recording star.
The heyday of Maud Powell's recording career was the 1910s when her records were popular across the country, but it was cut short by her death in 1920 at the age of 52. The electric microphone was introduced in 1925, which is why we remember musicians like Heifetz, with his long-playing records and recordings of complete concertos, whereas with Maud Powell, who was so associated with the Sibelius and Tchaikovsky concertos and her interpretations of Bruch and Mendelssohn, there is no record of her in these works because she died before the technology had been invented. She had to make do with recording into a single recording horn, which with a large ensemble meant musicians crowding around the horn and pointing their instruments at it, and a wax cylinder could only contain about five minutes of sound.
It is incredible to think that Maud Powell made over 100 recordings, from Bach to her own interpretations of the most cutting-edge contemporary composers she was championing, like Sibelius, as well as African American spirituals. Some 87 of her recordings have been re-mastered and are available on the Naxos label, and her playing still stands up today.
She was recording in her prime and through the snap, crackle and pop of the wax cylinders you can hear the vitality of her playing, the spontaneity and character she brought to her interpretations, and the care of her phrasing. Among the records is one she made of her violin version of Samuel Coleridge-Taylor' s piano version of the African American spiritual Deep River in 1908, before any vocal version was recorded, and it became a popular hit throughout white America.
I discovered Maud Powell through her biographer Karen Shaffer, who out of the blue mailed me a copy of the book. What impressed me was not just that she was a great violinist but that she was such a pioneer for the development of classical music in America. She brought classical music to remote communities that had never heard it before. She was an important figure during her era, but a century on her artistry and the values by which she lived her life still hold resonance.
She was recording in her prime and through the snap, crackle and pop of the wax cylinders you can hear the vitality of her playing
She believed in using music for social good and to effect positive change, and she was out there performing not just the great classics but American composers, women composers, and using technology to spread music. She was tireless in bringing live music to people, and generous in giving advice to young composers and performers.
Maud Powell is the first female solo instrumentalist of any genre to be given a Grammy Lifetime Achievement Award. There have been three other violinists prior to her, Perlman, Stern and Heifetz, and four female classical musicians, all opera singers, but no female instrumentalist.
Maud Powell's career held such a string of firsts – premiering the Tchaikovsky, Sibelius and Dvořák concertos in the US, being the first woman to form and lead a quartet in which men were part of the ensemble, and being one of the first white artists to champion the work of black composers – it's funny to find that 100 years later here she is, still breaking new ground.
I was born in Chicago and Maud Powell was born in a town outside of Chicago called Peru, Illinois, where there is a statue of her in the town square. It is the only full-size statue of any female musician in the whole of the US.
Two years ago I performed a tribute concert to Maud Powell at the National Museum of Women in the Arts in Washington, DC, and included Maud Powell's violin version of Deep River. Afterwards Leonard Slatkin came up to me and said to me how great he though the transcriptions were, and said that Maud Powell was the female Fritz Kreisler. Had I been quicker thinking on my feet I would have said no, Fritz Kreisler was the male Maud Powell, because he came after her and she was a hero to him and his generation.
INTERVIEW BY CHLOE CUTTS