Our cover star Leonidas Kavakos shares his journey of recording Bach's Solo Sonatas and Partitas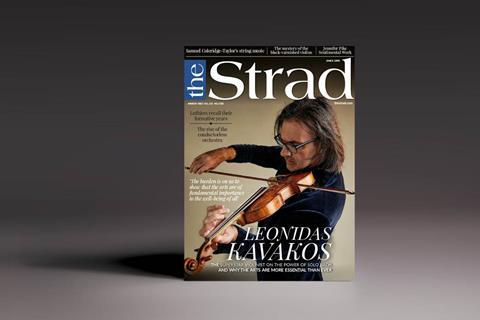 Leonidas Kavakos: The acclaimed Greek violinist has finally recorded Bach's Solo Sonatas and Partitas. He tells Charlotte Smith why it's the culmination of a three-decade journey
Conductorless Orchestras: Jacqueline Vanasse finds out why some ensembles have decided to jettison the maestro in order to bring a closer spirit of mutual collaboration
Early Lutherie Experience: Violin makers talk to Peter Somerford about their time spent as 'journeymen' in the workshops of established luthiers, at the start of their professional careers
Session Report: British cellist Laura van der Heijden tells Tom Stewart why she feels an other-worldly atmosphere around her latest recording of Czech and Hungarian music
Luigi Cavallini: The violin makers of Tuscany have long been overlooked. Florian Leonhard examines the life and work of a 19th-century luthier based in the city of Arezzo
Coleridge-Taylor Violin and Chamber Music: Tatjana Goldberg explores some of the British composer's extensive output for strings, and reveals how US violinist Maud Powell played a part in his success
In our regular sections:
Cellist Jacqueline Thomas from the Brodsky Quartet gives tips on playing Beethoven's 'Heiliger Dankgesang' in this month's Masterclass, while violinist Lihay Bendayan gives advice on practising the perfect vibrato in Technique. Violinist Jennifer Pike shares her love for Szymanowski's Violin Sonata in D minor in this month's Sentimental Work, while Diotima Quartet violist Franck Chevalier shares her memories and opinions in Life Lessons. Alexander Sitkovetsky shares how interpretations have changed in 15 years of his eponymous trio in this month's Opinion, plus a Postcard reporting back from the 2021 Cambridge Music Festival.
We take an In Focus look at a c.1870 viola by Niels Larsen Winther and My Space features Swedish luthier Magnus Nedregård. Bow maker Eric Lane completes his method for making a Parisian eye ring in Trade Secrets, while Michel Lorge examines the mystery of late 18th-century dark-varnished violins in Making Matters.
We also bring you news of the latest products and auctions, plus our regular analysis and opinion columns, and comprehensive reviews of concerts, recordings and books. Simply go to the current issue to explore the full content listing.
Plus, in your March 2022 digital edition:
Leonidas Kavakos gives his thoughts on Bach's Sonatas and Partitas, accompanied by clips from his new Sei Solo CD
View more photos from Copenhagen's innovative MusicLab project, recently named 'Classical Event of the Year' by Danish Radio
More from Laura van der Heijden's celebration of Eastern European repertoire, 'Pohádka', including photos from the recording session
Bonus photos from the 2021 Cambridge Music Festival, with photos of the Next ensemble and Takács Quartet
Magnus Nedregård shows us round his Oslo workshop in My Space, with more photos of the inside and outside
Read about David Fulton's extensive collection of fine instruments, with extra photos of some of the highlights - including Guarneris and a Stradivari
And of course, clips from the three recordings in this month's 'The Strad Recommends'
The digital magazine and print edition are on sale now, or subscribe to access the entire magazine online here.