Known for his spectacular and virtuosic transcriptions for solo violin, violinist Roman Kim tackles a behemoth of symphonic repertoire: the first movement of Beethoven's Symphony no.5 in C minor!
Watch as Kim uses as many extended techniques available to him on the violin, including all manner of double/triple/quadruple stops, artificial harmonics, plus… thumb position?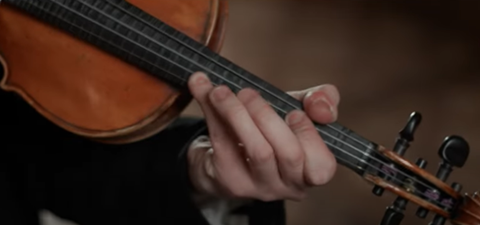 In this performance, Kim plays on a 2015 violin by Alexander Hazin 'Superior'. The audio and video was engineered by Daniel Gronsfeld, filmed at the Green Salon at La Redoutte in Bonn.
Kim was born in Kazakhstan in 1991 and counts Maxim Vengerov, Midori Goto, Lewis Kaplan, Miriam Fried and Gidon Kremer among his teachers. He studied at the Central Music School in Moscow from 2000-2008 with Galina Turchaninova and was a scholarship student of the Mstislav Rostropovich Foundation.
He studied at the Cologne University of Music with Viktor Tretyakov. He was first prize winner of the Cologne International Music Competition in 2011 and the 28th Valsesia Musica in Italy in 2012.