Lorenz Chen and Zlatomir Fung win top honours at the event in Harbin, China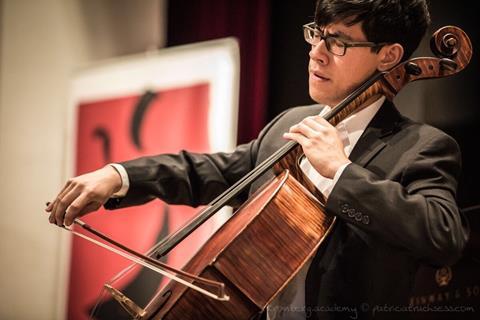 The 2018 Alice and Eleonore Schoenfeld International String Competition has concluded with Americans winning both the violin and chamber music prizes. Taking place from 18 to 30 July, the competition was held in Harbin, China.
In the violin section, Germany's Lorenz Chen took the top award, worth $30,000. Chen, who studies with Ana Chumachenco, has preLorenz Chen viously won the €10,000 first prize at the 2017 Henri Marteau Violin Competition. Vasyl Zatsikha from Ukraine came second, and China's Wendi Wang third. Wang also won the prize for best interpretation of a Chinese piece.
American 19-year-old Zlatomir Fung received the first prize in the cello section, also worth $30,000. He also received the special prize of a solo engagement with the Poznań Philharmonic Orchestra. A full Kovner Fellowship student of Richard Aaron and Timothy Eddy at Juilliard, Fung has won prizes at the 2014 Klein Competition and 2017 Enescu Competition, and was also successful in last year's Astral Auditions. In 2016 he was named a US Presidential Scholar for the Arts.
Russia's Anastasia Kobekina, recently announced as a BBC New Generation Artist, and Hungarian Dora Kokas came second and third respectively, with Rustem Khamidullin , also from Russia, and Mon-Puo Lee from Spain coming fifth and sixth.
The Ulysses Quartet, from the US, had already been announced as winners of the $20,000 Schoenfeld chamber music prize.
The 2018 jury comprised Jean-Jacques Kantorow (Chair), David Geringas (Chair), Ole Bøhn, Andrés Cárdenes, Anne Gastinel, Karine Georgian, Rudolf Koelman, Hu Kun, Grzegorz Kotow, Jakob Kullberg, Alexander Markov, Amit Peled, James Tennant, Raphael Wallfisch and Raimund Trenkler.