American cellist makes history with his performance of the composer's work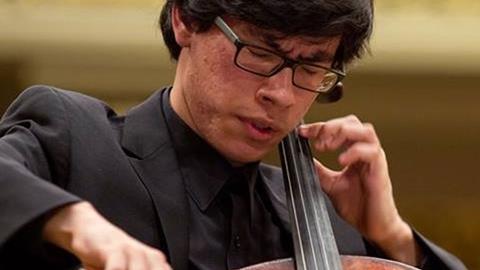 Zlatomir Fung, aged 17, has won the cello section of the 2016 George Enescu International Competition in Bucharest, Romania. The American's performance of Enescu's Symphonie Concertante with the George Enescu Philharmonic Orchestra and conductor Alexandre Bloch, was greeted with a standing ovation and earned him the €15,000 first prize. It was the first time the piece had been performed in the history of the competition.
Fung studies with Richard Aaron and Julie Albers at the New England Conservatory Preparatory School; as a soloist, he has appeared with groups including the Santa Cruz Symphony Orchestra, the Boston Pops Orchestra and the Lausanne Sinfonietta. In 2014 he won the 29th Irving M. Klein International String Competition in San Francisco at the age of 15, and this year he was also named a US Presidential Scholar for the Arts.
22-year-old Anastasia Kobekina came second, winning €10,000. Originally from Russia, she studied with Frans Helmerson at the Kronberg Academy in Germany and later at Yale University. She has performed with the Vienna Symphony Orchestra, Mariinsky Theatre Orchestra and the National Russian Philharmonic. Spanish cellist Mon Puo Lee, also 22, won the third prize of €5,000. He is currently studying with Jens Peter Mainz at Berlin University of the Arts.
The contest is part of the annual George Enescu International Festival and Competition, founded in 1958 as a celebration of the Romanian composer's work. It also features categories for violin and piano, the results of which will be announced later in the month. The 2014 George Ensecu violin section was won by Stefan Tarara, while the cello section was won by Eun–Sun Hong.
Read: George Enescu International Competition 2016 announces violin and cello candidates
Photo: Andrei Gindac