Presented by the MOLA: An Association of Music Performance Librarians, the award recognises Koh's advocacy work and commitment to artistic excellence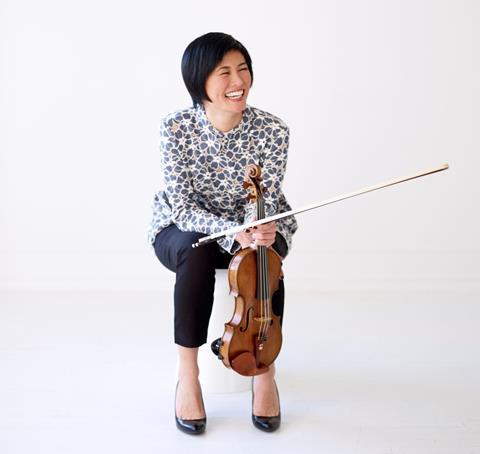 A champion of works by underrepresented composers, Koh received the new award at the 2022 MOLA Conference in Philadelphia on 5 June.
'It is especially fitting that we have the opportunity to honour Jennifer Koh with this brand new award. Her pioneering spirit inspires all of us at MOLA to reflect on our roles in the performing arts as we look ahead to the next 40 years.' commented MOLA president, Georgina Govier.
Past president of MOLA Elena Lence Talley said, 'Jennifer is an outstanding choice for the inaugural MOLA Eroica Award on so many levels. First off, she is prodigiously talented and one of the most dynamic and engaging artists of our time.
'She has led a wide range of commissions and premiered more than 100 contemporary works while building bridges between different groups and amplifying the work of composers and artists of colour. These are prime examples of the values and actions we seek to acknowledge with the Eroica Award. They perfectly coincide with the extraordinary efforts that Jennifer has put into her nonprofit ARCO Collaborative.'
Koh created ARCO Collaborative to help promote equity and inclusivity in classical music. The nonprofit prioritises collaborative efforts through commissions and new music that highlights artists of colour and women composers.
During the pandemic, Koh commissioned and premiered 39 new solo works from diverse composers and shared them on social media. She turned these efforts into a recording, Alone Together, earning Koh a Grammy Award earlier this year for 'Best Classical Instrumental Solo'. Koh continues to commission new works for Alone Together in support of the freelance music community, members of which continue to struggle from the pandemic.
'It is our pleasure to honour Jennifer's seemingly limitless creativity, imagination and energy as she continues to lift up artists of colour and women composers,' Govier added. 'True representation on our stages has the potential to inspire and motivate the next generation of musicians and audiences. There is space in our world for all of us and for all of our stories.'
Celebrating its 40th annual conference, the criteria for the new Eroica Award included advocacy for the art form, artistic excellence and leadership. MOLA encouraged nominations for those who champion underrepresented works or composers, mentor young musicians, bridge communities, or break new ground.