The violinist is the new artistic director of the Fortas Chamber Music Concerts, effective immediately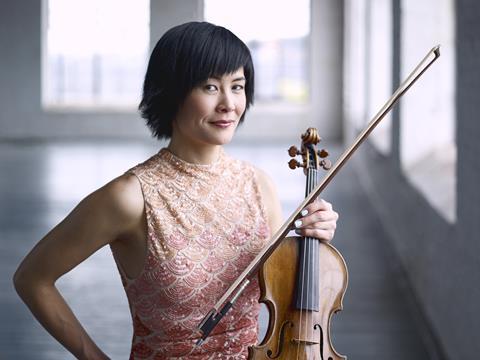 Read more news articles here
Violinist Jennifer Koh has been announced as the new artistic director of the Fortas Chamber Music Concerts at the Kennedy Center. She replaces Joseph 'Yossi' Kalichstein, who died in March 2022. Koh's appointment is effective immediately and extends into spring 2026; her first full season of programming will be the 2024–2025 season.
'I am honoured to be appointed as the artistic director of the Fortas Chamber Music Concerts at the Kennedy Center,' said Koh. 'The chance to advocate for the most compelling artists of today continues the tradition and spirit of collaboration that I have learned through my own musical collaborations with Yossi Kalichstein. I look forward to incorporating the musical traditions from his previous leadership.'
'We welcome Jenny with open arms to the Kennedy Center,' said Deborah Rutter, president of the John F. Kennedy Center for the Performing Arts. 'Her artistic voice is distinctive and her presence here will build on the incredible legacy and strength Yossi had built over the 25 seasons he oversaw Fortas. I have no doubt Jenny will push us forward in her artistic vision here at the Center.'
Koh is a champion for living composers and an advocate for those marginalised in the classical music industry. In 2013 she presented a programme Two x Four (four works for two violins) with her former teacher Jamie Laredo and the Curtis Chamber Orchestra as part of Fortas Chamber Music Concerts at the Kennedy Center. Koh recently performed the World Premiere of Missy Mazzoli's Violin Concerto (Procession) in February 2022 with the National Symphony Orchestra.
The new position is the latest in a series of successes for Koh in 2022 alone: she won a Grammy Award for Best Instrumental Solo for her recording Alone Together. The album of new commissions was based on her online performance series of the same name created in response to the coronavirus pandemic and the financial hardship it has placed on many in the arts community. She also received an honorary doctorate from the Cleveland Institute of Music and the Eroica Award for Outstanding Service to Music for her work expanding violin repertoire and championing diversity in classical music.