Bruce Hodges reviews the concert at New York's Carnegie Hall on 15 July 2023, comprising Sibelius, Bernstein, Prokofiev, Carlos Simon and Antonio Abreu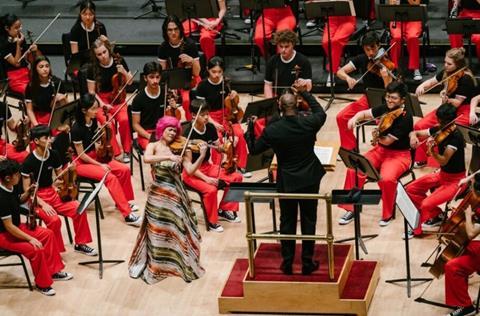 At the interval during this outing by NYO2 (the younger of the two Weill Music Institute youth orchestras, members aged 14 to 17), a dozen violinists – all clad in the ensemble's black T-shirts, scarlet trousers and black trainers – posed for a selfie on the Carnegie Hall stage. Their enthusiasm, shepherded by conductor Joseph Young, was shared by hundreds of onlookers in the audience.
Jennifer Koh, the fearless soloist in Sibelius's Violin Concerto, carried over that energy but seemed ultimately overwhelmed by the work's demands. The result was some insecure intonation and, through no fault of her own, a sense of being swamped by the sheer sound from the gigantic ensemble.
The orchestra showed its strengths better in the opener, 'Three Dance Episodes' from Bernstein's On the Town, again channelling that unalloyed teenage spirit. But it saved the best for last, in selections from Prokofiev's Romeo and Juliet. It's worth noting that the commitment gave hints of how the players might infuse orchestras or chamber-music ensembles in the future. It's also worth reminding readers that young players often have not acquired instruments of a professional calibre, with commensurate tonal sumptuousness. But in this case, it hardly mattered.
For encores, Young led a jazzy spin on Carlos Simon's 'Holy Dance' from Four Black American Dances (2023), commissioned by the Boston Symphony Orchestra. And after Young announced that the group's first stop on its upcoming tour would be the Dominican Republic, a merengue appeared: Caña Brava (1988) by Antonio Abreu.
Bruce Hodges