'It's a very versatile instrument as well as a beautiful thing to look at,' said the cellist in our June 2013 issue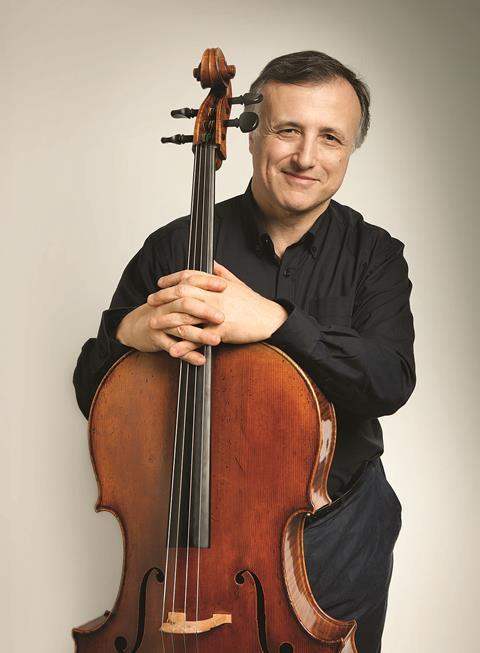 Click here to purchase a poster of the Jean-Baptiste Vuillaume cello 1865 poster
This article first appeared in our June 2013 issue
Discover more lutherie articles here
Vuillaume has made a few quartets for aristocratic families and decorated them, so Count Sheremetev's coat of arms is on the back — and it's a particularly beautiful one. It shows the Sheremetev Palace in St Petersburg, which still has a musical instrument collection today, and the coat of arms is on the façade and the gate. The translation of the Latin is 'God looks after everything.' I find this quite reassuring when it comes to playing a particularly challenging piece of the cello repertoire!
It is unusual among Vuillaume's cellos because it hasn't been antiqued in the same way he often did, to make the dark patch on the belly known as a 'beard' that makes it look older. He also used excellent, exciting wood, with a fabulous flame that can be seen on the ribs and the front.
Soundwise, it has an extremely deep, dark quality with an almost thick texture, especially on the lower strings. When I play a piece such as Fauré's Élégie, I get tremendous satisfaction from the richness of each string as I cross over, as well as the quickness of response. Going to another extreme, even if I play lightly with a Baroque bow, the response is still very quick. I feel as though the instrument combines qualities of the best Vuillaumes with the intimacy of sound that the great Italians have — sometimes I feel as though I'm touching the instrument with one hair of the bow. It encompasses the whole spectrum of sound, from the massive to the intimate. So I think it's a very versatile instrument as well as a beautiful thing to look at.
This article first appeared in our June 2013 issue