The violinist and double bassist were honoured at the Sphinx Global Symposium on Diversity in Classical Music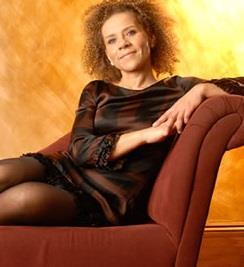 Trinity Laban Conservatoire has presented Honorary Fellowships to violinist Aaron Dworkin and double bassist Chi-Chi Nwanoku MBE (pictured) for their 'major contribution to the arts in the UK and internationally'.
Dr Claire Mera-Nelson, director of music at Trinity Laban, said:
'Trinity Laban wishes to recognise and celebrate Chi-chi Nwanwoku's pioneering contribution to music, in particular the inspiration she provides, the commitment she has shown, and the contribution she has made to addressing inequalities within classical music in the UK, most recently through the Chineke! Foundation, her organisation established to champion change and celebrate diversity within classical music.
We wish to recognise and celebrate the internationally significant contribution that Aaron Dworkin has made in advancing opportunity and transforming lives through the power of diversity in the arts. His commitment to addressing inequalities within classical music and championing opportunities for black and other minority ethnic groups is unparalleled, leading to global recognition.'
Aaron Dworkin is dean of the University of Michigan's School of Music, Theatre and Dance and founder of The Sphinx Organisation, a US non-profit body set up to encourage Black and Latino people into the field of classical music.
Chi-chi Nwanoku is founder and artistic director of the Chineke! Foundation, which seeks to 'champion change and celebrate diversity in classical music,' and 'to be a catalyst for change in the industry', particularly through its Chineke! Orchestra, Europe's first all-black orchestra.
Previous Trinity Laban Fellowship recipients include musicians Sir Edward Downes, the Kronos Quartet and Ravi Shankar.
Read: Chineke! Foundation aims to form Europe's first professional all-black orchestra
Read: Cellist Thomas Mesa wins 2016 Sphinx Competition $50,000 first prize