At the beginning of the 20th century, a small number of female violinists became internationally renowned. Linking the members of this intrepid group was the famous Czech string teacher Otakar Ševčík, as Rosalind Ventris discovers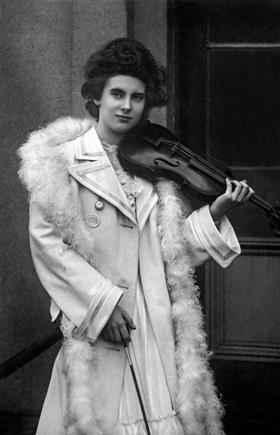 The following extract about groundbreaking female violinists was published in The Strad's June 2019 issue.
'Young women do not drink or smoke to excess; they therefore tend to be in better physical condition. It is also evident that they are more patient than men.' So said Otakar Ševčík (1852–1934) of his female students, supposedly in an interview for Pall Mall Magazine in 1910, reproduced in The Amadeus Book of the Violin (1998).
As one of the most famous violin teachers in Europe at the start of the 20th century, Ševčík helped to launch the international careers of female soloists at a time when the violin was gradually becoming a socially acceptable instrument for women to play. Yet these women and their stories have so far received little attention from writers, in comparison with their male contemporaries.
Henry Roth's enduring book Master Violinists in Performance (1982) offers a case in point. Following eight individual chapters on famous male violinists like Heifetz and Menuhin, Roth ends the book with a single chapter titled 'Women and the Violin', which only briefly covers some of the better-known female violinists, the bulk of the material consisting of photographs rather than biographical detail.
The situation is the same with Grove Music Online, which still omits several important women – including two whom we learn more about here.Today, in an age when many of the world's most popular violin soloists are women, it is time to pay homage to those who forged this path.
This article will consider three violinists whose careers were launched from Ševčík's studio, looking briefly at their fascinating life stories, and exploring ways in which Ševčík's teaching enabled them to carve out careers in this male-dominated sphere.
As various writers have recently noted, prevailing social attitudes in 19th-century Europe meant that only rarely did female artists make it on to the stage. In the Journal of the American Musicological Society (2018), Roger Freitas discusses the climate in which the famous 19th-century singer Adelina Patti rose to prominence, writing: 'Patti lived in a world where feminine rectitude precluded stage performance.
He quotes Bonnie G. Smith, who in Changing Lives (1989) wrote, 'Women in the public sphere… sought out pleasure and were therefore outcasts from respectable, domestic society.' In the particular case of the violin, a woman playing on 'the devil's instrument' could be notably scandalous: Paula Gillett (in her book Musical Women in England, 1870–1914; published in 2000) identifies an 'informal ban' on women playing the violin during this period.
Indeed, although the Royal Academy of Music in London was founded in 1822, female violin students were not admitted until 1872. (Previously, only the voice, the piano and the harp were considered suitable instruments for ladies.) However, the final decades of the 19th century saw attitudes begin to change, and women started to navigate their way on to the concert platform.
In 1893 George Bernard Shaw wrote, 'Young ladies who can play much better than the average professional "leader" of 20 years ago are discoverable with little research in sufficient abundance nowadays' – though he did attribute this to the fact that the violinist Wilma Neruda had proved 'that the violin shews off a good figure' (quoted in Roth).
In the particular case of the violin, a woman playing on 'the devil's instrument' could be notably scandalous
The demand for violin recitals grew in early 20th-century London, and Simon McVeigh (in his 2010 essay '"As the Sand on the Sea Shore": Women Violinists in London's Concert Life around 1900') has shown that female violinists played a considerable part in this craze – and none more so than the 'true international celebrity' British violinist Marie Hall (1884–1956).
In fact, an article in the Strand Magazine (1903) reports Ševčík as having proclaimed Hall 'the most gifted pupil I have ever had'. She was the first of his female students to establish an international career as a violinist. As a talented child from a penniless family, she approached Ševčík's protégé Jan Kubelík after a recital in London, asking if he would hear her play, and he agreed to hear the ambitious young girl the next morning.
Immediately, Kubelík saw her potential, and sent her to Ševčík in Prague (in 1901), with a letter of recommendation. Studying with Ševčík, who was famously driven, entailed 14-hour days for Hall, but when she returned to England 18 months later she could command a fee of £500 for her London debut at St James's Hall in 1903, and such was her popularity that hundreds were turned away from her second appearance in the capital.