Women soloists have long struggled against prejudice and indifference in the male-dominated musical establishment. But, as Tully Potter explains, The Strad has taken an enlightened approach to the sexes throughout its history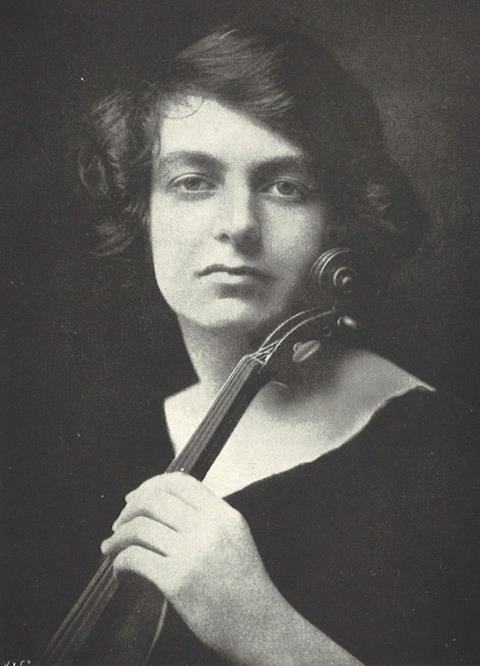 From the start, The Strad treated men and women equally; its pages chronicled the steady rise of female soloists and they were often treated to feature articles or picture profiles. In the first issue, published in May 1890, some 15 women violinists were mentioned including such eminent names as Vilémina Neruda, Maud Powell, Nettie Carpenter and Teresina Tua. In August 1894 came the question: 'Who was the first female violinist?' Historic names were mentioned such as Sarah Ottey (playing in public in England by 1721), Schmeling, Sacchi, Gautherot, Paravicini and Milanollo. The 'moderns' at that stage were considered to be Neruda, Wietrowetz, Shinner and Scotta.
Of course there was the occasional condescension. In December 1897, under the heading 'A New Profession For Ladies', The Strad ran a report from a newspaper in Berlin, where women's orchestras were popular. One manager had the idea of hiring pretty girls, giving them violins, training them to turn the page at the same time as the real musicians and soaping their bows well so that they could enhance the pulchritude of the orchestra without dragging it down musically. But in general women were treated fairly – The Strad arrived in time to reflect the inexorable rise of women soloists.
But in the wider music world, the ignoring of women soloists by influential opinion-makers, impresarios and record company executives was a self-fulfilling prophecy. These men (for they were all men) did not know of great women violinists and therefore such beings could not exist. The movers and shakers of the musical establishment set male parameters of strength and athleticism, expecting a woman to play like a man. I am sure that when Hans von Bülow flattered Marie Soldat-Roeger (1864–1955) – profiled twice in The Strad, in September 1897 and February 1910 – by calling her 'Brahms's understudy', he was not suggesting she played the Brahms Concerto like her teacher Joachim. But from all accounts her performances of the concerto were beautiful and satisfying – she and her fellow Joachim alumna, Leonora Jackson, did more than anyone to fix the work in the public consciousness.
A woman is not like a man, thank goodness, and we need to appreciate that womanly virtues are as valid as manly ones where music is involved. True, social pressures made it difficult for women soloists in bygone days. There was something unladylike about the violin, from the literal stigma that it left on the player's neck to the overt emotion it evoked. Women were supposed to sit decorously at a keyboard. If, horror of horrors, they wanted to play the cello, it must be done side saddle (which became possible after the invention of the endpin). Whereas a singer could not do more than half an hour's practice without ruining her voice, a violinist needed eight times that amount. To combine solo status with being a wife and mother was almost impossible. In the 19th century we lost many soloists to marriage, three American cases being typical. Arma Senkrah (1864–1900), a pupil of Wieniawski and Massart who took a first prize at the Paris Conservatoire in 1881, gave up touring in 1888 after wedding a German lawyer. Her death by her own hand was twice mentioned in 1900 issues of The Strad. Leonora von Stosch (1872–1956), who studied in Brussels and Paris, was profiled in The Strad in October 1901, described as 'a most welcome addition to the ranks of lady violinists', but she gave up for eight years after marrying. She made a comeback and assisted Elgar with his Violin Concerto but later forsook the violin for the pen, winning a Pulitzer Prize for poetry. Leonora Jackson (1879–1969) abandoned her career after marrying in 1915.
But a few came through. The Moravian virtuoso Vilémina Neruda (1839–1911) played Bach's 'Double' Concerto as an equal with Joachim – one of those performances was reported in that first issue of The Strad – and led his London quartet in his absence. She even got a mention from the violin-playing Sherlock Holmes. Camilla Urso (1842–1902) from Nantes toured widely before settling in America. Marie Soldat-Roeger led two all-female quartets of high accomplishment – the second, in Vienna, could command guest artists of the stature of Nedbal and Casals. By the turn of last century, a fashionable teacher such as Henri Petri in Dresden could attract a stream of young women students.
Leopold Auer's class in St Petersburg was a finishing school for such soloists as Kathleen Parlow (1890–1963), profiled in The Strad in April 1909, internationally known before returning to promote music in her native Canada; Ohio-born Thelma Given (1896–1977); and Britain's Isolde Menges (1893–1976, pictured) who appeared in The Strad in September 1913 and December 1923, and was among the first to record the Beethoven Concerto and led an influential quartet. Auer also taught Cecilia Hansen (1897–1989), Russian born of Nordic stock, who toured widely although the bad luck she had with her recording career was typical of her fortunes. She died forgotten in London.
No one bothered to record the Australian Alma Moodie (1898–1943) at all, yet she was Carl Flesch's favourite pupil, had a duo with the pianist–composer Eduard Erdmann and performed the big concertos – including the Paganini D major with Flesch's cadenza – and difficult modern works. She took her own life. Other Flesch pupils were Anja Ignatius (1911–95), from Tampere, a fine advocate of Sibelius's violin music, and the ageless Ida Haendel (born 1923), who has made numerous appearances in The Strad throughout her long career, first in a profile in March 1937 that began with the prediction: 'From Poland, the homeland of many celebrated musicians, we welcome a young lady who bids fair to add her name to its scroll of great artists.' Two Frenchwomen were also Flesch pupils: subtle Janine Andrade (born 1918), whose party piece was the Paganini–Kreisler La campanella, and powerful Ginette Neveu (1919–49), who had conquered Brahms and Sibelius and was homing in on Beethoven when she was taken from us in an air crash. Neveu's concerts were reviewed in The Strad as far back as 1930, and in April 1945 a reviewer commented on her 'masterly technique, with a phenomenal range of tone values and a bow-arm which is a joy to watch' in the Beethoven Concerto. Most recently, she was remembered by her classmate Ida Haendel in October 2009.
Mention of France reminds me of Renée Chemet (born 1888). She enjoyed quite a vogue before vanishing to Japan in 1932; back in Paris by the 1950s, she ended in obscurity. An interview in The Strad in August 1909 caught her early in her career, and commented on 'the charm of her playing, which is distinguished by a fi ne broad singing tone, warmth, colour and life'. The Franco–Belgian style was kept going by the delightful Paris-trained Romanian Lola Bobescu (1919–2003), who settled in Brussels; the French pair Michele Auclair (1924–2005) and Marie-Claude Theuveny (born 1931); and Ghent-born Edith Volckaert (1949–92), who declined too soon due to cancer.
Jeno Hubay and his Budapest colleagues taught a succession of brilliant ladies, starting with Joachim's great-nieces Adila Fachiri (1886–1962) and Jelly d'Arányi (1893–1966). No pre-war London Proms season was complete without these talented sisters playing the Bach 'Double'. Adila was more polished, Jelly more fi ery, as witness some of the pieces written for her – Bartók's two sonatas and Ravel&rs