Australian-born violinist Alma Moodie was a celebrated performer in her day – a protégée of Carl Flesch who collaborated with many leading composers. However, her contribution to the violin canon has been largely forgotten, writes Tatjana Goldberg
This is an extract from a longer article in Strad's July 2020 issue, about the violinist Alma Moodie. To read in full, click here to subscribe and login.The July 2020 digital magazine and print edition are on sale now.
Through this article, I would like to free the Australian violinist Alma Moodie from her historical shadow. For many decades she fascinated composers, managers, critics, conductors and the public alike while performing with many great European musicians and orchestras. She collaborated and associated with composers such as Bartók, Berg, Hindemith, Schoenberg, Stravinsky and Szymanowski; her intimate friends included pianist and composer Eduard Erdmann, Swiss businessman and patron of the arts Werner Reinhart, poet Rainer Maria Rilke and one of the most influential violin teachers of the time, Carl Flesch. Why did this formidable roster of great figures of the musical world associate themselves with Moodie? Were they fascinated because this talented virtuosa, thriving in the masculine world of music, was a beautiful and charming woman? Or was it because of her remarkable artistry and undoubted musical personality?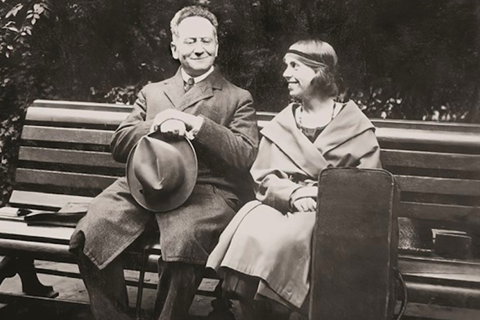 Her importance should rest upon the fact that between 1920 and 1930 she stimulated the production of modern compositions for the violin as Joachim, Sarasate and Ysaÿe had done before her.
Read: Alma Moodie: From Praise to Obscurity
Read: Sarasate Letters: Beloved Mother
Moodie had an independent mind and was not afraid to comment on musical matters of the time. In her letters she vividly described – with a sharp sense of humour and a high level of candour – her contemporaries, friends, intimate relationships and the kinds of modern music she liked and disliked. A letter to Reinhart from 6 January 1924, in which she described composer Hans Pfitzner, is typically colourful: 'He is 54, has had a rotten time, his character can be rotten too but doesn't want to see more than he does. On the other side he is absolutely like his music […] perfectly beautiful, a tender, unendingly deep nature, completely level-headed and yet suddenly funny and has such quality that I just love the hours I spend with him.' In that same letter, she spoke of her determination to make an artistic impact: 'I am quite certain that if life doesn't smash me up in some way or other I will then bring things that really are worthwhile.' To her teacher Flesch on 21 November 1936, she wrote unashamedly of her own playing: 'There is no doubt that I have developed an entirely different style of playing, which I regard as a definite improvement. My successes are enormous!'
This article was published in the July 2020 Isaac Stern issue

Celebrating the great violinist's chamber music collaborations in his centennial year – with contributions from Midori, Pinchas Zukerman and Cho-Liang Lin. Explore all the articles in this issue.

More from this issue…