Cellist Amit Peled and his CelloGang have released their performance of Fauré's Élégie at the 2022 Keshet Eilon Gala in Tel-Aviv, Israel.
The Amit Peled CelloGang, featuring Luke Acerra, Jihyeuk Choi, Lindsey Choung, Daniel Kaler, Yevheniia Krivych, Ruen Li, Michael Riefeld, Oshri Shatil, Natalia Vilchis, Maya Zemac, is made up of students from Peled's studio at the Peabody Institute at Johns Hopkins University in Baltimore, Maryland, where Peled has taught since 2003.
The students range from undergraduate to postgraduate students and perform original works arranged or composed for the group. Together, they have performed at the Cape Cod Chamber Music Festival, the Society of Four Arts in Palm Beach, the Fairfax Symphony Orchestra, as a resident ensemble in San Miguel de Allende, Mexico, and all across Maryland.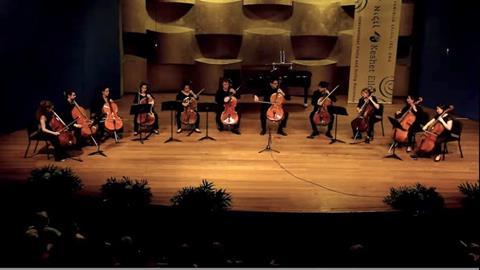 In his interview for The Strad Podcast in May 2022, Peled said: 'the benefits [of performing in a cello choir] are that you play with people who are playing your same instrument and you're equal… For students to realise that their professor, the person they look up to, becomes their equal on stage is extremely important.'
CelloGang has performed a smaller arrangement of Fauré's Élégie for six cellos as well as Brahms's Symphony no.3 in F major op.90, second movement arranged for eight cellos which was recorded for his latest album Solus et Una under the CTM Classics label.