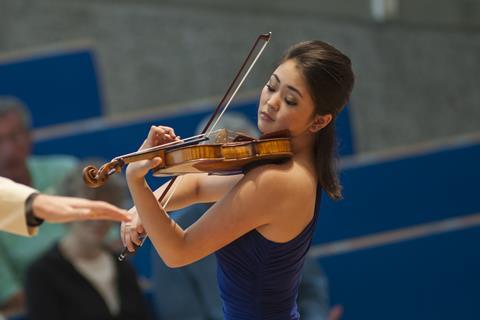 Violinist Simone Porter performing at Aspen Festival Photo Alex Irvin
US violinist Simone Porter remembers being a ten-year-old on her first summer at Aspen. Having plundered the festival library for chamber scores, she and her Aspen friends would get together for sightreading parties.
'For me it was a musical revelation,' she says. 'Play time and work time ceased to exist. The connective power of music is something I try to tap into when I perform today, aligning with something beyond myself. I can trace this joy back to that time experimenting with friends at Aspen.'
This episode features musical excerpts from Prokofiev's Violin Concerto no.1 in D major, performed by Simone Porter with the Aspen Chamber Symphony conducted by Nicholas McGegan and recorded at the Aspen Music Festival & School 2019.
In association with The Strad magazine, Aspen Music Festival & School presents a six-part podcast series featuring interviews with leading string players talking about a moment of revelation from Aspen that changed their way of making music.
The six episodes will appear on The Strad's YouTube channel (search for Stradmagazine) and will be linked to through www.thestrad.com) weekly, every Thursday from January 16, and comprise the following episodes:
● Stefan Jackiw, 'Write It Down!'
● Sarah Chang, 'Bit Part, Big Night'
● Simone Porter, 'Party!'
● Lynn Harrell, 'My Father's Son'
● Sylvia Rosenberg, 'Piacevole'
● Gil Shaham, 'Known Unknowns'
Visit www.aspenmusicfestival.com, www.thestrad.com and The Strad YouTube channel 'Stradmagazine'.
Presented by James Inverne. Podcast editing by Timothy Burton. The podcasts feature short musical excerpts recorded at the festival, or by kind arrangement with Warner Classics, Canary Classics and others.
Next episode: Lynn Harrell, 'My Father's Son' showing Thursday 13 February 2020.