Alongside violinist Thomas Gould, pianist Yulia Chaplina performed music by Prokofiev and Weinberg to a live audience at London's Kings Place this week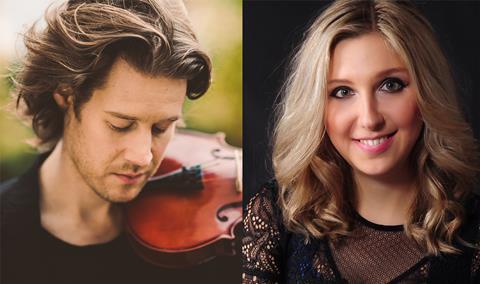 At the end of May, I finally stepped out onto a concert platform for the second Prokofiev Festival - my first concerts since December last year. On Wednesday, I returned to Kings Place with violinist Thomas Gould. The concept for our programme was born out of the pandemic crisis.
The first idea was to highlight the contrasts between the darkness of the Prokofiev's F Minor Violin Sonata, with the constantly-changing 'light and shadow' of Weinberg's music for children and the artificial happiness of Shostakovich's ballet suites and film music.
Confined at home and isolated from colleagues, friends and family, the music took on a new meaning – particularly the causes of the darkness and the horrors of Prokofiev's Violin Sonata in F minor (1938 - 1946). Rarely played due to its extreme difficulty both for violinist and the pianist, this work is without a doubt one of the Prokofiev's finest masterpieces.
The difficult, disturbing and at times unbearably intense music of Prokofiev's Violin Sonata resembled many feelings experienced during the lockdown – possibly because the pandemic at its peak felt like a war, just without a visible enemy. The piece is known as one of Prokofiev's 'War' Sonatas (it was finished in 1946) and it was first conceived in 1938 (before the Soviet Union joined the war in 1941). This makes me wonder whether the horrors and the frustration attributed to the war in fact depicts the Soviet regime.
The exquisite sonata was premiered in 1946 by David Oistrakh and Lev Oborin, who were coached by the composer himself. During rehearsals, Oborin played a certain passage marked forte too gently for Prokofiev's liking. The composer famously retorted, 'It should sound in such a way that people should jump out of their seats and say, "Is he out of his mind?".' This is exactly how I perceive the second movement. It is so brutal - there is almost no music, just a 'fight' between the violin and the piano - almost like hitting a brick wall again and again.
Watch Hilary Hahn plays Prokofiev's Violin Concerto no.1 aged 18
Read Gidon Kremer on Mieczysław Weinberg
Watch Working from home: Thomas Gould gives a fundraising concert
I am also intrigued by the tempo and character of the finale. Allegrissimo (I have never encountered this tempo marking before) with over-optimistic, clumsy and rather 'stupid'- sounding passages. The main theme seems to represent some kind of a Soviet factory process. I have this impression that Prokofiev tried to depict the ideals of the Soviet Union – to keep going and be happy no matter what. Not surprisingly it all ends with 'winds of graveyards', exactly where it started in the first movement. (Prokofiev himself described the violin scales at the end of the 1st and 4th movements as 'wind passing through a graveyard'.)
Paradoxically, Prokofiev was awarded the Stalin Prize for this work in 1947. The first and third movements of this sonata were played at Prokofiev's funeral. He died on the same day as Stalin and his friends managed to get him only very few flowers as everything, of course, was allocated to the Great Leader. One of his contemporaries remembered that they had to lie to florists and say they needed flowers for Stalin's funeral, otherwise nothing was available.
Mieczysław Weinberg's Children's Notebooks were composed by in1945. Every Soviet composer had an obligation to write music for children and Weinberg was no exception, but it is questionable whether these remarkable works were really meant for children. After the 23 miniatures were published, Weinberg was heavily criticised for their 'inappropriate sophistication'.
I think the wonderful pieces are addressed to all humanity – to the little children inside all of us. Weinberg's music is seeking peace and beauty for the entire world. There are many 'ugly' sounding harmonies and lots of dissonance in the middle of most beautiful passages, but I think these reflect the idea that even if things feel safe and secure, there is no escape from the brutal, harsh reality.
There are so many parallels with how we all felt at the height of the Covid crisis – there were lots of dreams but without an escape from the surrounding despair. Weinberg created a very interesting juxtaposition – one minute you imagine, or pretend (out of self-denial), that everything is fine and wonderful but 'wrong notes' creep in to destroy the fantasy.
As Weinberg wrote: 'Many of my works are related to the theme of war. This, alas, was not my own choice. It was dictated by my fate, by the tragic fate of my relatives. I regard it as my moral duty to write about the war, about the horrors that befell mankind in our century.'
It was a deliberate choice to include happy, grotesque and sometimes farcical miniatures from Shostakovich ballet suites and film music (Michurin, Gadfly, Tale of the Priest and of His Workman Balda) in my programme at Kings Place. During the pandemic, playing these pieces has been enormously cathartic. They provided a happy escape from everything, even knowing that they were commissioned by the Soviets and most likely did not represent Shostakovich's inner world at the time of composition.
The Communist Party commissioned a lot of 'happy' music for a reason – it was a clever policy to give an impression that all was fine during even the most turbulent times. The result is staggering – the music is indeed very light-hearted, cheerful and uplifting, but tinged by an inevitable sadness of spirit constrained in an iron-grip that makes these miniatures even more beautiful and moving.
I have enjoyed arranging these stage and film scores. As a starting point, I used a piano arrangement by Joseph Prostakoff and altered it by adding a couple of passages here and there after listening to the original scores.
I was so extremely excited to be back at Kings Place, finally free to play again for an audience.