A violin legend of the past remembered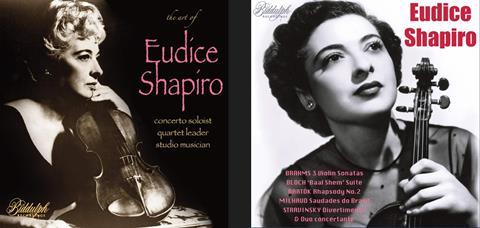 The Strad Issue: July 2023
Description: Australia and Britain are brought together to potent effect
CD1:
Musicians: Eudice Shapiro (violin) Ralph Berkowitz, Brooks Smith (pianos) Paul Weston and His Orchestra
Works: Brahms: Violin Sonatas nos.1–3. Bartók: Rhapsody no.2; Romanian Folk Dances. Bloch: Baal Shem. Milhaud: Saudades do Brasil op.67. Ravel: Kaddisch. Stravinsky: Duo concertante; Divertimento; works by Kreisler and Provost
Catalogue number: BIDDULPH 85026-2 (2 CDS)
CD2:
Musicians: Eudice Shapiro (violin) American Art Quartet; NBC Symphony Orchestra/Frank Black; Paul Weston and His Orchestra
Works: Mozart: Violin Concerto no.5; works by Bridge, Fauré, Grainger, Mendelssohn, Rachmaninoff, Shostakovich, Tchaikovsky, Turina, Wolf and Young
Catalogue number: BIDDULPH 85025-2
One of Efrem Zimbalist's best pupils, Eudice Shapiro (1914–2007) flourished on the West Coast of America, leading two studio orchestras and a front-rank quartet, playing concertos and introducing much modern music. I wrote about her in the April 2021 issue.
Biddulph has already released a CD of the American Art Quartet and these discs dip further into her distinguished discography. In her 1957 recordings of Brahms, Bartók, Bloch, Milhaud and Ravel she is partnered by Ralph Berkowitz, while her partner in her 1962 Stravinsky is Brooks Smith.
In the Brahms sonatas a relatively forward recording slightly works against Shapiro's soft playing, but the piano has good presence. The G major is notable for her flexible, fluent phrasing and natural-sounding double-stopping; tempos are well chosen and its finale starts in a carefree way. Shapiro produces lovely tone in the A major, rising effortlessly to climaxes, though there is some distortion. She meets the challenges of the D minor's outer movements; G-string tone is supple at the start of the Adagio, rhythm excellent in the Scherzo. Berkowitz is with her at every step.
Bloch's Baal Shem brings parlando bowing – almost a lost art – in 'Vidui'; 'Nigun' is deeply felt, 'Simchas Torah' superbly played. Milhaud's rhythmic subtleties do not find Shapiro lacking; and Ravel's Kaddisch is beautiful, with more parlando and some portamento. With Stravinsky she is totally at home rhythmically, catching varied moods in the Duo concertante: the Gigue dances, the Dithyrambe is sympathetic. She and Smith are just as convincing in The Fairy's Kiss Divertimento.
The single disc starts with Mozart's 'Turkish' Concerto from 1944, recorded for the Armed Services. Frank Black, radio pioneer (and erstwhile pianist for vocal group the Revelers) conducts the NBC SO stylishly and Shapiro gives a strong rendering, not least in Joachim's cadenzas. Surface noise is not too obtrusive.
'Lovely' and 'brilliant' can variously describe the nine quartet movements by the American Art Quartet, including such stand-alone pieces as Wolf's Italian Serenade and Turina's La Oración del Torero. This programme and the second CD of the set end with lush numbers from a Paul Weston LP called Hollywood, presenting Shapiro in her movie guise.
TULLY POTTER