Intensity aplenty in this wide-ranging programme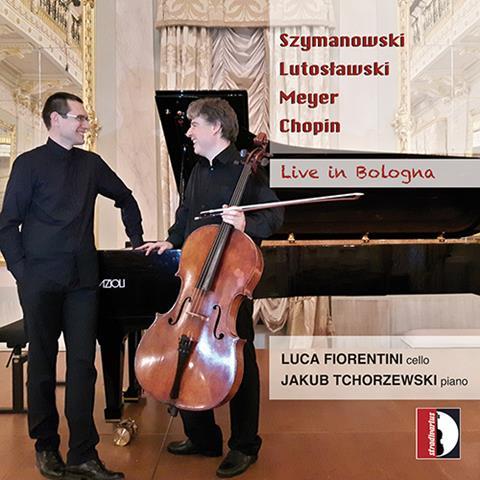 The Strad Issue: October 2022
Description: Intensity aplenty in this wide-ranging programme
Musicians: Luca Fiorentini (cello) Jakub Tchorzewski (piano)
Works: Music by Chopin, Lutosławski, Meyer and Szymanowski
Catalogue number: STRADIVARIUS STR 37227
Recorded live in concert at the 2014 Bologna Festival, Luca Fiorentini and Jakub Tchorzewski dispatch a highly demanding programme with impressive technical and intonational security. The relatively close miking ensures that audience noise is virtually non-existent (gently faded applause excepted), while the very occasional sniff and exhortation from Fiorentini only adds to the sense of occasion.
Szymanowski's early op.9 Violin Sonata, in the transcription by Polish cellist Kazimierz Wiłkomirski, comes flying off the page – the finale's imposing coda thrilling in a way that studio recordings rarely achieve. Lutosławski's solo Sacher Variation, with its startling mood changes and colossal dynamic range, also inspires heartfelt playing from Fiorentini, whose sweeping down bows were so vehement I almost feared for his instrument at times.
Krzysztof Meyer's accompanied 1981 Chaconne, based on the finale of Mozart's 'Jupiter' Symphony, is a substantial work lasting almost a quarter of an hour. Fiorentini and Tchorzewski trace the music's hauntingly claustrophobic narrative with great intensity. They finish with Chopin's G minor Sonata, a work that always sounds best when the musical gloves come off, and once again they respond with high-octane passion and abandonment.
JULIAN HAYLOCK