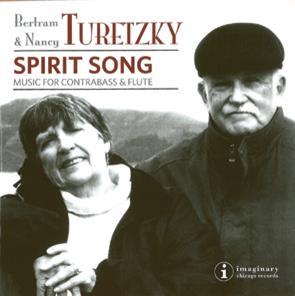 The Strad Issue: January 2012
Description: Intriguing but flawed collection from the veteran US duo
Musicians: Bertram Turetzky (double bass) Nancy Turetzky (flute)
Composer: Jacopo da Bologna, Alexander, B. Turetzky, Hauta-aho & Fricker
Spirit Song is Bertram and Nancy Turetzky's celebration of 50 years of marriage and music making, bringing together favourite pieces from a range of traditions. Without wishing to rain on their parade, this rather random assortment lacks coherence for the listener who's not intimately connected with the couple's musical history. The scrapings and insect-like noises of the improvised Fracas are light years away from Bertram Turetzky's Monk's Blues, let alone the 14th-century madrigals that open the disc.
There are some attractive parts, though. In Jacopo da Bologna's madrigals, Bertram's bass-lines are a hazy glow that occasionally comes softly into focus with gently percussive strokes. Simplicity is one of his watchwords throughout the recording, as in the unaffected solo in Monk's Blues; there's a deliberate naivety, too, that's most obvious in his rather loose tuning, although this does begin to grate in the double-stopping in Peter Racine Fricker's Seachant later on the disc.
For all the variety of styles across the recital, the individual pieces sometimes lack colour and shape within themselves – Valse for Bert by Finnish composer Teppo Hauta-aho feels particularly one-paced. Spirit Song is a decent introduction to what the Turetzkys are about, but taking this album on merit alone, it feels like they've become victims of their own versatility.
James Crel