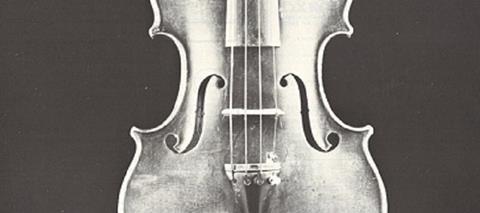 This illustration of a 1908 violin by Augusto Pollastri was published in The Strad, January 1984. The following text is extracted from the article accompanying the photographs:
Modern Bolognese violin makers acknowledge Raffaele Fiorini (1823-98) as sole and indisputable founder of the school. After a brief apprenticeship at Modena with the Tadolini brothers, he moved to Bologna, where he established a flourishing workshop of violin making in the Palazzo Pepoli, near the 'two towers'. He soon expanded the enterprise by taking on several pupils and built up a genuine and individual school of violin making in Bologna.
Among his pupils were his son Giuseppe, Augusto Pollastri, the brothers Cesare and Oreste Candi, and Armando Monterumici.
Augusto Pollastri (1877-1927), a violin maker who may be considered one of the most outstanding Bolognese craftsmen, settled on his own personal model, which was slightly influenced by the Pressenda (Turin) model that was to be used constantly by such a large number of Bolognese violin makers.
Pollastri built only 54 instruments (violins, violas and cellos), but his small output has been swollen by an incredible number of forgeries circulating on the market. His splendid instruments, which are distinguished by, among other things, the excellence of the 'A', are admirable examples of a solid tradition.
In the Bolognese school, the application of the ribs, pressed by the counterparts, to the outer mould of the instrument thus minimizes the deformations in the line of the violin. At Bologna it is the custom to finish completely the belly and the back with purfling, which are then attached to the shaped ribs. This guarantees considerable precision in the thicknesses. Bolognese varnishes tend to be red in colour.