Leah Hollingsworth attends the violinist's New York debut at Merkin Concert Hall on 8 February 2023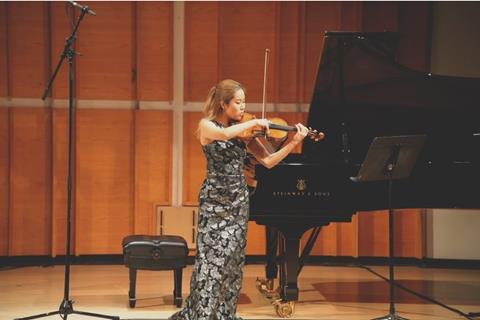 Risa Hokamura (violin) Albert Cano Smit (piano)
Merkin Concert Hall 8 February 2023
Risa Hokamura made her New York City debut at Merkin Hall, playing with power and poise in the opening work, Ysaÿe's Sonata in D minor op.27 no.3. Although her vibrato was a bit fast (perhaps down to nerves) for my taste, I was especially taken with the strength of her playing in the higher registers and her impeccable intonation in the many double-stopped passages, while her coda was exquisite.
She was then joined by Albert Cano Smit for Prokofiev's First Violin Sonata and their deep understanding of the work demonstrated a musical maturity. Again, Hokamura's powerful playing was awesome to witness and the combination of accuracy and intensity truly impressive. The richness of the lyrical second theme in the Allegro brusco matched the power and depth of the chords at the opening of the movement while portraying a completely different character. The sonata's emotional heart, the Andante, was duly touching and I enjoyed her varied vibrato speeds and the way she used them to colour the sound.
After the interval, Hokamura presented a newly composed Japanese work by Toshio Hosokawa, played with fine commitment, focus and passion. Chausson's Poème formed a lovely contrast to the previous works and was played with a lush tone, although I would have liked longer lines in general and a bit less focus on every note. Hokamura finished the evening with Saint-Saëns's Introduction and Rondo Capriccioso and, while the opening could have been a bit lighter and more playful, she offered much beauty of sound. The Capriccioso was performed with virtuosity, impressive accuracy and technical mastery.
LEAH HOLLINGSWORTH
Photo: Kendall Redmon