Out of a record number of 240 applicants, 49 young violinists from 16 countries have been selected to participate in the competition held in Helsinki, Finland in late May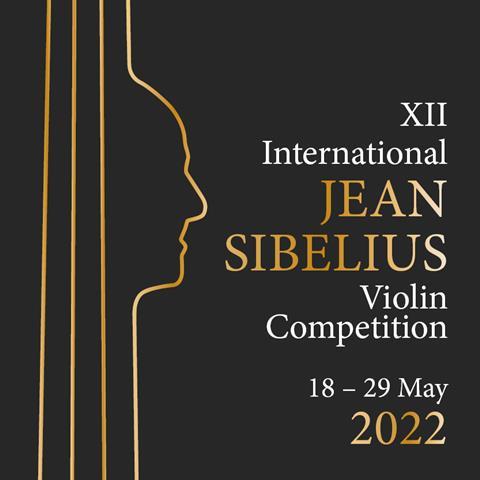 Originally planned for late 2020 and postponed due to the pandemic, the XII International Jean Sibelius Violin Competition will finally take place from 18 to 29 May 2022 in Helsinki.
'We are looking forward to an exciting competition of the highest quality, and of course to many wonderful musical experiences,' commented the chair of the competition committee, Lauri Ratia.
In light of recent current events, the competition committee has strongly condemned the Russian invasion of Ukraine. However, Russian violinists have not been excluded from the preliminary selection process, following the policy of the World Federation of International Music Competitions (WFIMC), of which the Sibelius Violin Competition is a member, that no competitor should be excluded from the competition solely on the basis of their nationality.
Contestants will have the chance to win first prize of €30,000. Other awards up for grabs include future concert engagements and use of a 1772 Giovanni Battista Guadagnini violin, loaned by Jane Ng through J & A Beare and the Beare's International Violin Society.
The competition is organized jointly by the Sibelius Society and Sibelius Academy of the University of the Arts Helsinki. The competition committee consists of chair Lauri Ratia, vice chair Olli-Pekka Martikainen and members Lea Rahkola-Kauranen, Miisa Järvi, Päivi Arjas, Jaakko Ilves, Petri Saavalainen, Emil Viitala, Miikka Maunula and secretary Päivi Pousar.
The contestants are as follows:
Diana Adamyan (AM)
Otto Antikainen (FI)
Rio Ara (JP)
Lara Boschkor (DE)
Zach Brandon (US)
Jevgēnijs Čepoveckis (LV)
Karisa Chiu (US)
Jung Min Choi (KR)
SongHa Choi (KR)
Hawijch Elders (NL)
Mira Marie Foron (GE/IT)
Kaori Furusawa (JP)
Molin Han (CN)
Risa Hokamura (JP)
Adrián Ibáñez-Resjan (ES/FI)
Anna Im (KR)
Ravil Islyamov (RU)
Amia Janicki (CH/AT)
Sarah Jégou-Sageman (FR)
Eun Che Kim (KR)
Gyehee Kim (KR)
Jaewon Kim (KR)
Jeewon Kim (KR)
Stephen Kim (US)
Daniel Kogan (CA)
Issei Kurihara (JP)
Miyeon Lee (KR)
Yesong Sophie Lee (US)
Chaowen Luo (CN)
Nathan Meltzer (US)
Fumika Mohri (JP)
Georgii Moroz (UA)
Maine Nishiyama (JP)
Audrey Park (US)
Sueye Park (KR)
Aoi Saito (JP)
Felicitas Schiffner (DE)
Vikram Francesco Sedona (IT)
Yoomin Seo (KR)
Karen Su (US)
Natsumi Tsuboi (JP)
Dmytro Udovychenko (UA)
Kasmir Uusitupa (FI)
Jaewon Wee (KR)
Qingzhu Weng (CN)
Inmo Yang (KR)
Oukalin Yin (CN)
Minami Yoshida (JP)
Galiya Zharova (RU)
Reference
The competition