Richly varied colours and sophistication make an enticing listen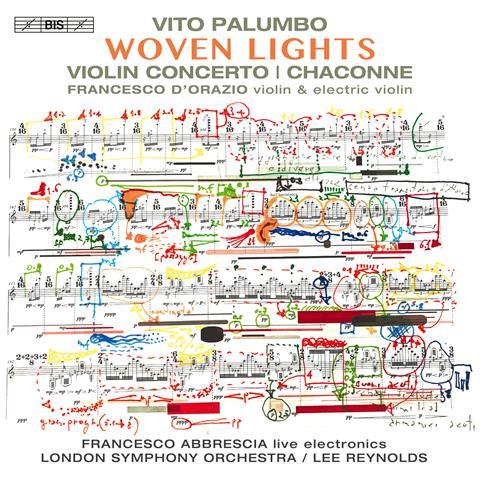 The Strad Issue: May 2023
Description: Richly varied colours and sophistication make an enticing listen
Musicians: Francesco D'Orazio (violin, electric violin) Francesco Abbrescia (electronics) London Symphony Orchestra/Lee Reynolds
Works: Palumbo: Violin Concerto; Chaconne
Catalogue number: BIS BIS2625
The CD's cover image says it all: a hugely complex contemporary score, marked up and decorated in a rainbow of colours. Yes, Italian composer Vito Palumbo's music is intricate, and often challenging. But he also has an alluring way with iridescent, restlessly shifting colours, as the two works on this rewarding disc demonstrate.
Palumbo himself has mentioned Berg's 1935 Violin Concerto as an inspiration for his own concerto of 2015, and connections are clear in the more recent piece's sumptuous harmonies and deep lyricism (a wonder-filled section near the end even sounds uncannily like a John Williams movie score). There's a sense of ever-expanding melody that soloist Francesco D'Orazio captures excellently in his warm, generous playing, with an expressive, finely controlled vibrato and abundant character across the rhapsodic writing; the London Symphony Orchestra provides spirited support under Lee Reynolds.
D'Orazio swaps his Guarneri for a five-string electric fiddle in Palumbo's two-movement Chaconne, which first pits the soloist against a shimmering electronic backdrop, and later against 30 mirror images of himself. It's a volatile, sometimes elusive piece that blends fantasy and sonic adventurousness, and D'Orazio responds with far harder-edged, sometimes astringent playing that stands out beautifully against the composer's washes of sound. The massed, high-pitched violins set microtonally apart in the Chaconne's second movement make for a rather headache-inducing, if impressive, sonic texture, but it's the piece's uneasy relationship with more traditional tonality and playing, and its joyful celebration of the wild unpredictability of sound that make it particularly striking. Recorded sound is close, warm and clear throughout.
DAVID KETTLE