Following the final round of auditions on 31 October, four outstanding young musicians have been selected to join the Young Concert Artists roster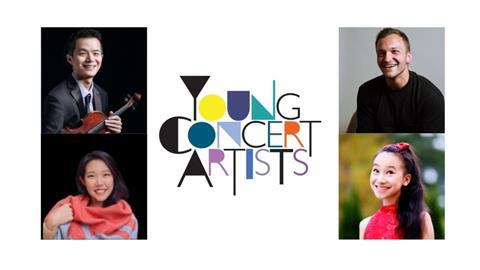 Four young musicians have been announced as winners following the final round of the Young Concert Artists International Auditions. They are:
Lun Li, violin (China, 25)
Ying Li, piano (China, 23)
Daniel McGrew, tenor (US, 28)
Harmony Zhu, piano (Canada, 15)
The musicians receive management on the roster of Young Concert Artists, concert engagements including debuts in New York and Washington, D.C., publicity, and career guidance.
The 2021 winners were chosen from an initial pool of over 100 applicants from around the world by the jury of soprano Amy Burton, flutist Brandon Patrick George, conductors Miguel Harth-Bedoya and David Alan Miller, pianist and vocal coach Kayo Iwama, YCA President Daniel Kellogg, violinist Jennifer Koh, pianists Cecile Licad and Anne-Marie McDermott, Philadelphia Orchestra Vice President of Artistic Planning Jeremy Rothman, violist Marcus Thompson, YCA Founder Susan Wadsworth, and cellist Paul Watkins.
Young Concert Artists was launched in 1961 and has launched the careers of many successful musicians, including violinists Ray Chen and Pinchas Zukerman. Current artists on the roster include violinists Benjamin Baker, Randall Goosby, Risa Hokamura and double bassist Xavier Foley.
Read: Quartet Amabile wins Young Concert Artists auditions