Tim Homfray attends the performance of Beethoven, Schubert and Debussy at London's Wigmore Hall on 10 July 2023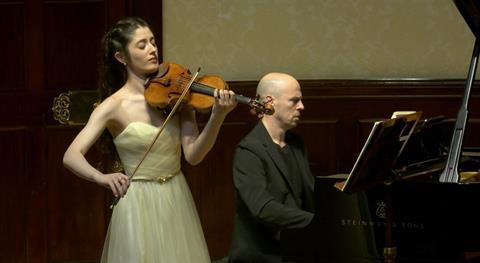 María Dueñas launched into Beethoven's First Violin Sonata with exuberance, before going on to exhibit the kind of unassuming technical command which meets all challenges with ease and grace. She pressed ahead through the first movement (shorn of its exposition repeat), definitely two to the bar, sometimes bold, at others feather-light and elegant, and showed a penchant for the occasional excursion up the G string. In the Andante con moto she was a sensitive partner to the luminous playing of Julien Quentin, and brought Haydnesque wit to the Rondo finale.
The opening melody of Schubert's A major Sonata D574 (or 'Grand Duo' as the publisher christened it) was delicate, and the transition to the second subject suitably urgent. Again, there was no repeat; its development found Dueñas almost fierce-sounding, contrasting effectively with a coquettishness to the slinky Trio of the Scherzo, and finely graded dynamics in the lyrical Andantino. The opening of the final Allegro vivace was vigorous and muscular (and yes, this time with the repeat).
In the first movement of Debussy's sonata she was constantly expressive, demonstrating subtle differences in the playing of staccato quavers and building surely to the Appassionato climax. The two musicians neatly caught the quixotic, quicksilver interplay of emotion and character in the Intermède, and the sonata's closing moments were ecstatically affirmative.
TIM HOMFRAY