The violinist is delighted to be loaned the 'Camposelice' Stradivari from the Nippon Music Foundation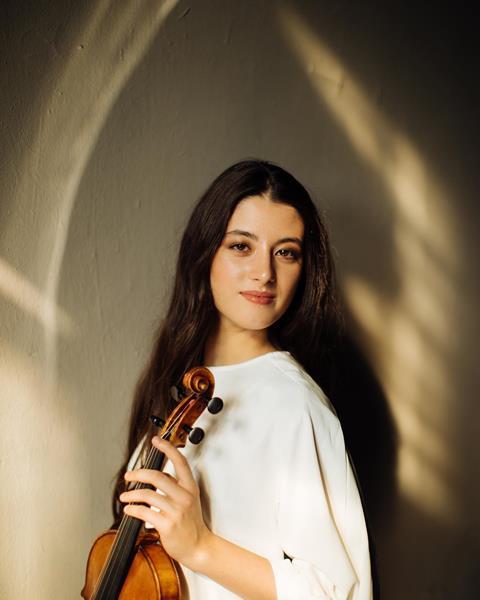 Read more news articles here
Spanish violinist María Dueñas has announced that she has been loaned the 1710 'Camposelice' Stradivari violin, courtesy of the Nippon Music Foundation.
'Still over the moon about getting to explore this instrument and share its soul with you on the stages soon!' she stated on social media.
The violin is named after the Duke of Camposelice of France, an amateur violinist and collector who purchased the instrument in 1884 from another amateur player via Gand et Bernardel of Paris. W. E. Hill & Sons acquired the instrument in the UK in 1889 and sold it to the founder of the Isabella Stewart Gardner Museum in Boston, Mrs J.L. Gardner. The instrument remained in the US for part of the 20th century before being displayed at the 1937 Cremona Exhibition of Instruments. Other players of the instrument include Czech violinist Váša Příhoda and Bernard Goldblatt. The Nippon Music Foundation acquired the instrument in 2004 after it had been in the hands of a Belgian amateur player for over 30 years.
Aged 20, Dueñas has already played several fine instruments during the course of her young career. These have included a Nicolò Gagliano violin loaned by the Deutsche Stiftung Musikleben, and the Guarneri del Gesù 'Muntz' of 1736 from the Nippon Music Foundation. She also won a two-year loan of a Stradivari violin from the collection of Jonathan Moulds as part of her victory at the 2021 Menuhin Competition.
Following numerous competition victories, including the 2017 Zhuhai, 2018 Vladimir Spivakov and 2021 Getting to Carnegie, Menuhin and Viktor Tretyakov competitions, Dueñas has enjoyed a busy career performing worldwide, including as a BBC Radio 3 Next Generation Artist for 2021-23, and giving the premiere performance of Gabriela Ortiz's violin concerto Altar de cuerda with the LA Phil and Gustavo Dudamel in May 2022. She is due to release her debut album with Deutsche Grammophon in May 2023.
The Nippon Music Foundation has loaned many Stradivari instruments to numerous musicians, including violinists Ray Chen (1714, 'Dolphin'), Timothy Chooi (1709 'Englemann'), and Stella Chen (1709 'Huggins'), and cellists Pablo Ferrández (1696 'Lord Aylesford') and Camille Thomas (1730 'Feuermann').