The Spanish violinist is set to release her debut with the label in May 2023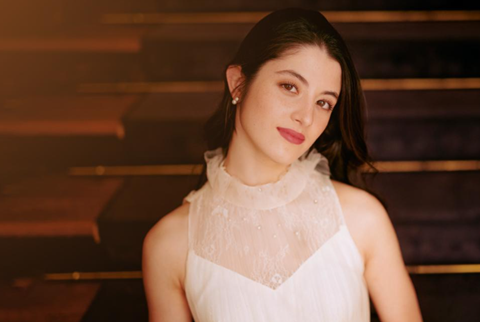 María Dueñas © Christoph Koestlin
Read more news articles here
Winner of numerous competitions, including the 2021 Menuhin Competition, young violinist María Dueñas has signed an exclusive contract with Deutsche Grammophon (DG).
The 19-year-old is set to release her debut album in May 2023, which will include a recording of the Beethoven Violin Concerto with the Wiener Symphoniker and Manfred Honeck.
'For me, Deutsche Grammophon quite simply means great music – I grew up listening to my mother's vinyl DG recordings of Milstein and Oistrakh,' said Dueñas. 'So of course I'm thrilled to join the label myself and especially to have the opportunity to record one of the greatest violin concertos ever written. Exploring the Beethoven and developing my interpretation of this work with the wonderful Wiener Symphoniker and Maestro Honeck is a dream come true.'
Various figures at DG have expressed their excitement to collaborate with Dueñas. 'There's a special magic in her playing – an energy and lightness combined with extraordinary depth and sensibility. We're very much looking forward to working with her,' said Valérie Gross, DG's senior A&R director.
'She's such an expressive violinist, whose outstanding technical abilities match her sensitivity for sound quality and zest for fresh musical experiences,' said Dr Clemens Trautmann, president of DG. 'It's fascinating to observe that her creativity extends to compositions of her own, high-profile world premieres and audiovisual projects. Such comprehensive talent comes along maybe once in a generation.'
An early start to the violin at the age of six paved the way for the teenager's success. Dueñas began her studies at the Granada Conservatory, which was followed by a Juventudes Musicales Madrid scholarship to study at the Carl Maria von Weber College of Music in 2014. In 2016, she moved to Austria to study with Boris Kuschnir on the recommendation of her mentor Vladimir Spivakov, at the private Music and Arts University of Vienna and the University of Music and Performing Arts in Graz.
Her competition successes include victories at the 2017 Zhuhai International Mozart Competition and 2018 Vladimir Spivakov International Violin Competition. In addition to her success in the Menuhin Competition, 2021 saw her win first prize at the Getting to Carnegie Competition, the Grand Prize at the Viktor Tretyakov International Violin Competition, and the career advancement prize at the Rheingau Music Festival. She was also named as a BBC Radio 3 New Generation Artist 2021-23.
Dueñas has made her first appearances with, among others, the Pittsburgh Symphony Orchestra and Oslo Philharmonic under Manfred Honeck, the Dresdner Philharmonie and Marek Janowski, the Orchestre Philharmonique du Luxembourg and Gustavo Gimeno, the Staatskapelle Berlin under Alain Altinoglu and the Royal Liverpool Philharmonic Orchestra and Domingo Hindoyan. Dueñas also made her debut with the Los Angeles Philharmonic and Gustavo Dudamel at the Hollywood Bowl in August 2021 and joined them again in May 2022 to give the world premiere of Gabriela Ortiz's violin concerto Altar de cuerda, which was dedicated to her, at Walt Disney Concert Hall.
Dueñas plays the Nicolò Gagliano violin loaned by the Deutsche Stiftung Musikleben, and the Guarneri del Gesù 'Muntz' of 1736, on loan from the Nippon Music Foundation. As part of her victory at the 2021 Menuhin Competition, she also enjoys a two-year loan of a Stradivari violin from the collection of Jonathan Moulds.