Bruce Hodges reports on the performance at the American Philosophical Society, Philadelphia, on 1 March 2023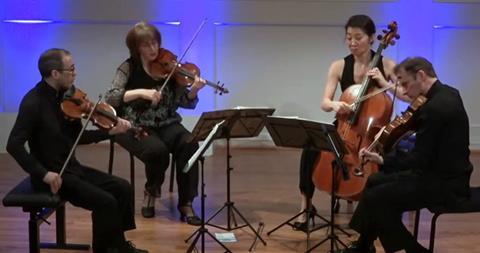 In a world of safe programming, this outing from the Brentano Quartet can't be lauded enough. With the title 'Dvořák and the American Identity', the foursome explored both the Czech master and sources of inspiration alongside composers who were perhaps inspired by him.
As violinist Serena Canin noted, the slow movement from Dvořák's 'American' Quartet formed the nexus of the exploration, along with a complete account of Dvořák's Quartet in A flat major op.105, written in 1895, three years after he arrived in New York to take up the position of Director of the National Conservatory of Music of America. There, he was charged with forming an American identity, in line with the school's mission: to offer music education for all – including African–Americans, women and the disabled.
The Brentano programme exulted in these relationships. A year after Dvořák's op.105, Ives wrote his First Quartet and the Brentano offered its 'Prelude: Allegro', which fitted perfectly, like a small encore. Several spirituals found their way into the mix, opening with Deep River and closing with Go Down Moses/Swing Low Sweet Chariot. More recent composers have built on this legacy, with the quartet showing how Dvořák subtly paved the way for Steven Mackey's brief 1989 arrangement of I've Grown So Ugly (1960) by Robert Pete Williams.
Two further high points need a mention: William Grant Still's 'The Quiet One' from the Lyric Quartet (1960) and George Walker's Lyric for Strings (1946). The latter has found its way on to many recent concert menus in the United States and beyond, and we are the richer for it.
BRUCE HODGES