Bruce Hodges hears the performance of Barber, Jessie Montgomery and Schumann at New York's David Geffen Hall on 4 August 2023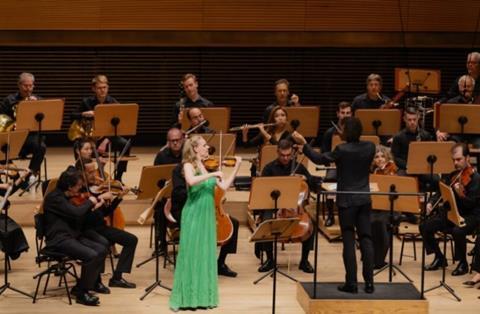 In a delicious twist of fate, Simone Lamsma gave me my second helping of Barber's Violin Concerto in less than a month, after Gil Shaham had a rollicking time in July with the National Youth Orchestra of the United States of America at Carnegie Hall. With the smaller Mostly Mozart Festival Orchestra, Lamsma gave Barber's luscious vehicle added strength with her 1718 'Mlynarski' Stradivari, its tonal beauty completely filling the recently renovated David Geffen Hall. At times she leaned in towards concertmaster Ruggero Allifranchini, a veteran of this festival, in solidarity with the orchestra's violins.
Conductor Jonathon Heyward – music director designate of both the Mostly Mozart Festival (which will be changing its name next year) and the Baltimore Symphony Orchestra – is himself a cellist, and seemed empathetic, not only to the strings but the entire ensemble. In a world premiere by Jessie Montgomery, Records of a Vanishing City, Heyward coaxed maximum commitment from the group as it evoked the composer's vision of the Lower East Side in New York City.
To close came an agreeable account of Schumann's Third Symphony, the 'Rhenish', with strings sounding even more mellifluous, thanks to the improved acoustics in the hall. One of maestro Louis Langrée's early innovations was moving the stage forwards in the space – a change that has now been made permanent, with better sightlines, seating behind the stage and increased presence among the instrumentalists.
BRUCE HODGES