Bruce Hodges attends a performance marking the 50th anniversary of the Walter W. Naumburg Foundation at The Town Hall on 8 October 2021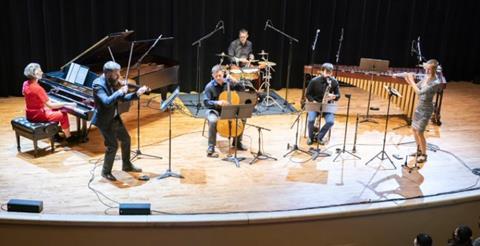 For string quartet aficionados, this gala presented by the Walter W. Naumburg Foundation and The Town Hall was the sonic equivalent of a sugar rush. To mark the foundation's 50th anniversary, the evening included not one but five string quartets, all of which were Naumburg winners over the years, and demonstrated the foundation's long record of shepherding chamber music at the highest artistic level.
The Brentano Quartet began with Haydn's F minor Quartet op.20 no.5, with keen focus and emphasis on the work's muted mood. In contrast, the Pacifica Quartet unleashed the Allegro from Prokofiev's String Quartet no.2. Insouciant pizzicatos combined with rhythmic punches, as the group playfully barrelled through the score. With the superb pianist Anton Nel, the American String Quartet offered the second and fourth movements of Brahms's Piano Quintet in F minor. The Andante showed delectable delicacy, before the ensemble sprang to life in the gutsy, rhythmically precise finale.
After the interval, the Telegraph Quartet and clarinettist Charles Neidich glistened in the Larghetto from Mozart's Clarinet Quintet, followed by the final Allegretto con variazioni, packed with immaculate ornaments and trills, and each variation sharply characterised. Earlier this year, the Emerson Quartet announced that 2023 would mark their final appearances, so when they took the stage to close the evening, the audience applause seemed more fervent than usual. After moving their chairs closer together, the tighter formation seemed to underline the relentless power of Bartók's Third Quartet, here packed with nervous energy and loneliness. As a non-quartet palate cleanser shortly before the end, Eighth Blackbird offered Tom Albert's Thirteen Ways, VIII: Steady, Rhythmic (1997), and a riotous work by Holly Harrison, Lobster Tails and Turtle Soup (2016), which had the entire audience grinning.
BRUCE HODGES
Photo: Chris Lee