Bruce Hodges hears a live-streamed perofrmance from New York's Advent Lutheran Church on 15 December 2020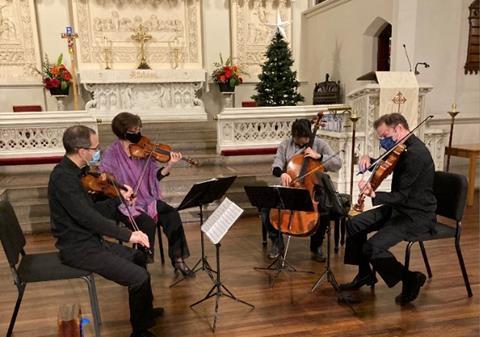 Under the auspices of Music Mondays, held in the fine acoustics of Advent Lutheran Church in upper Manhattan, the Brentano Quartet offered an hour-long programme of Schumann and Brahms. The opening of the Schumann (op.41 no.3 in A major) was a subtle, syncopated delight, followed by a wave of mellifluousness. The sighing start to the second movement quickly segued into scurrying lines with just the right amount of grit. But the placid mood returned – with some exceptions – until the peaceful end.
In the third movement, reverence reigned, emphasising the work's introspective filaments. Special kudos to Misha Amory, whose viola tone seemed to burrow straight into the soul, with his colleagues aligned in ascent to a climax that eventually ebbed away. The final movement was a buzzing delight, rife with dotted rhythms and packed with puckish charm. And a Covid-era bonus offered simple spiritual refreshment: an audience on the premises, warmly applauding.
Brahms's Quartet in A minor op.51 no.2 emerged almost modern, juxtaposed with the end of the Schumann. Its quizzical first movement brought whimsy combined with sobriety. In the second movement, the luxurious interplay and flowing phrases were briefly banished now and then, in favour of more explosive interventions. As the players' lines converged, a sense of peace reigned. That calm continued in the third 'Quasi minuetto' with a fairy-tale delicacy, while occasionally leaping off the stage with high spirits. In slower, drone-like moments, the group's intonation was a pleasure.
BRUCE HODGES