With her long-awaited recording of the Bach Sonatas and Partitas finally here, Korean violinist Kyung Wha Chung discusses her special affinity with the works and explains how 50 years of playing them has shaped her approach
Taken from the October 2016 issue of The Strad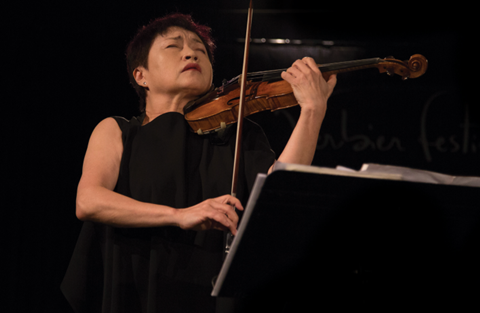 I began playing unaccompanied Bach when I was 13, while studying at the Juilliard School under Ivan Galamian. The first thing he gave me was the Prelude from the E major Partita; then the G minor Sonata, and I didn't know what I was doing – the Fugue was beyond me. By the time I was 17 I could play all six of the Sonatas and Partitas. The last one I learnt was the C major Sonata, which was a big challenge. I love the opening Adagio, but to sustain the bass-line and then create the melodic line take quite a bit of technical training.
My new Warner Classics set, due to be released this month, could be compared with my 1974 Decca recording of the Partita in D minor and the Sonata in C major, which was made in line with what I was taught by Galamian. Players such as Heifetz, Oistrakh and Szigeti all played Bach with full sound, but nowadays there is so much questioning about what the composer intended. In those days we didn't bother with urtext – all editions were fingered and phrased. My approach on the Warner Classics recording is more connected to Baroque style, with lighter articulation, even though I come from the Romantic tradition.
My faith and my music making are completely connected
When I was a student in the 1960s there was much more freedom of expression, and fluidity in phrasing, and in those days I didn't want to make 'ugly' sounds. Younger players today have the technique to achieve whatever they desire – they have all the historical knowledge and the past recordings to refer to. But the challenge for these players is to know who they are – to recognise their voice. They must find their own sound within each composer's idiom. You can't relive a composer's difficult life (Bach had many troubles of his own), but I myself have lived through difficult times, in a country scarred by war and death and poverty. All Korean people yearn for peace and freedom, a yearning that strongly affects me as an artist.
My faith and my music making are completely connected, as they were in Bach, who served the church with his music. He was such a pure and passionate man, and we can hear this mostly in his organ music, his Masses and his Passions, but it's clear that he loved the violin. I hear suffering in all of the Sonatas and Partitas, not just in the Chaconne (from the Partita in D minor). The cycle begins in G minor, with the tonic chord on the lowest string of the violin. I was taught that this is a whole world opening up, and my personal approach to it is inspired by the biblical book of Genesis and the creation of the world.
I feel I have a real connection to the A minor Sonata. Its opening Grave is completely human and I find myself asking why there is such suffering and pain. The Fugue is the hardest to play architecturally – it takes years of experience to assert the strength of the major cadences but also sustain the chords and fill in the melodic line. Then there's the Andante. It took a very long time for me to have the courage to perform this movement in public. It's physically scary to play – to carry this sustained pulse like the beating of a heart, and dealing with the change of harmonies underneath it. I like to be totally unconscious of myself while playing it.
I suffered a finger injury in 2005 and during the recovery period I would lie awake at night listening to the Fugue from the G minor Sonata until I was able to hear it constantly in my head. This liberated me from the violin. Since my return to playing in 2010 I've concentrated on finding the right sound for this music, the right degree of continuous vibrato for each phrase in order to allow the melodic line to be sustained. In 2012 I finally played the whole set together in concert, for the first time in my career.
I made the recording in three sessions at St George's Bristol. Beforehand, I tried so many different instruments and bows. I wanted a small-size Strad but couldn't get hold of one so ended up using my own instrument with a light Tourte bow. We were due to finish in two sessions, but my hand got tired so I came back a few weeks later for a third. When I tried playing Brahms and Prokofiev after making this recording, I was aware that there was something wrong with my sound – then I realised that I was barely using vibrato. I had to make a conscious effort to go back to a vigorous vibrato. There are gymnastics that come easily in a physical sense when you're young, but the muscles don't respond so easily later in life – these days I'm connected not so much to the violin as to the music itself.
It makes no difference to me whether I'm playing in the studio or in front of a large audience. I began learning microphone technique in 1970, when I started working with Decca, and couldn't have had a better partner in the studio than the producer Christopher Raeburn. I learnt so much from him. He inspired me and helped me lose my self-consciousness, ensuring that my own voice was enhanced as much as possible.
When I recorded Bruch for Decca in 1972, I tried my utmost to make it special. I wanted to create a ridiculous pianissimo at the start of the slow movement, so I recorded 20 takes. When I went into the control room, I found the engineer looking terribly miserable, so I asked him what I'd done wrong. He was almost furious. 'Look,' he said, pointing to the needle, 'it isn't registering! You need to play fuller.' I was so relieved. Nowadays, this sort of thing is not so much of a problem, partly because the equipment has become more sensitive, and you learn how to deal with the microphone: it becomes your friend. I have been able to train to do that because I had a studio built at home.
Stephen Johns was a wonderful producer for the Bach. I used to listen to every note I recorded for Decca, but this was a different kind of collaboration. Partly because I had the flu during the last session and a problem with my ears, I would ask him: am I forcing, am I coming through? He has very good ears, and a special way of communicating. Now – having just approved the final edit of the Bach – I think, if people like it I'm happy.
WORKS Bach Sonatas and Partitas BWV1001–6
ARTIST Kyung Wha Chung (solo vn)
RECORDING VENUE St George's Bristol
RECORDING DATES 19–21 February, 24–26 March, 3–5 April 2016
CATALOGUE NUMBER Warner Classics 9029 59441-6
RELEASE DATE 7 October 2016