Jacqueline du Pré was never happier than when playing chamber music with friends. This article from May 2005 commemorates the 60th anniversary of her birth, with David Denton looking at these scarce but exhilarating recordings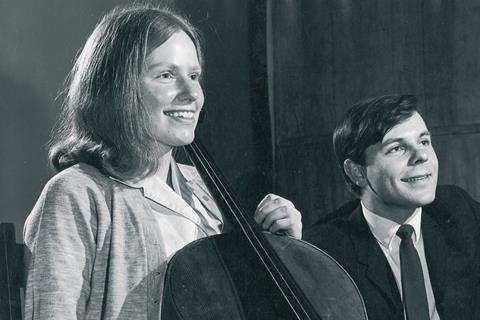 As a young man of limited financial resources I managed to hear Jacqueline du Pré playing live only twice, but I listened, enthralled, to her concerts at the other end of a radio. Even though it often came with as much crackle as notes, the chamber music I heard was magical. Du Pré may be remembered primarily for her concerto recordings, particularly her seminal Elgar, but her private life was dominated by the sheer enjoyment of playing chamber music with her friends.We can experience this unfettered joy in the cruelly small catalogue of discs that is the legacy of this unique musician.
Du Pré's career came to an end at 28, an age when most of us are barely on the threshold of our professional lives. Yet during the few years she had, she established herself as one of the most gifted cellists of her time. Having a secure technical control of her instrument, she could afford to be an impulsive and spontaneous performer, changing things at a moment's notice; she had a strong enough musical personality to make anything work. Equally, her recordings for EMI demonstrate her relaxed attitude and lack of inhibition when placed before microphones.
Both these aspects become clear when you contrast the Beethoven cello sonatas recorded at the Edinburgh Festival in 1970, accompanied by Daniel Barenboim, with the third and fifth sonatas, partnered by Stephen Kovacevich and made in the studio five years earlier. Between these two events du Pré and Barenboim had married, and although the two recordings do not display greatly different tempos in the fast movements, the later recording has a freedom within phrases that clearly describes a new joy she had found in the music – caution thrown to the wind in exuberant mood. In the more carefully considered studio approach you will find a more peaceful beauty in the Adagio con molto sentimento d'affetto of the Fifth Sonata, the strings caressed with warmth and affection.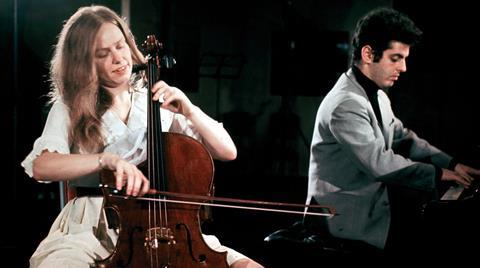 In terms of dynamic range, the 1965 recording is broader by virtue of the wonderfully whispered half-tones, while du Pré's use of expressive rubato is slightly less marked but seems more pre-determined. The later version has the advantage of covering all five sonatas. There is also an overwhelming sense of a fusion of identity with Barenboim, which seems to have encouraged du Pré's declaration that Beethoven liberated the instrument from its previous role as bass continuo: the powerfully projected cello line is particularly rewarding in the second part of the Fourth Sonata's opening movement. But for all of du Pré's thrusting vigour, she is ever mindful of the piano's important role and Barenboim's playing is never exaggerated dynamically, though it is suitably high spirited in the finales of the first two sonatas.
Turning to the two releases of the Brahms cello sonatas, we probably come even closer to an understanding of du Pré as a chamber musician. Joined by Barenboim in 1968, when she was at the height of her career, du Pré presents Brahms as a pure Romantic, and responds to the warm ebb and flow of the music with characteristic freedom. The first movement of the First Sonata opens with a sense of rhythmic licence we seldom encounter and the tendency for the piano to dominate here is denied by an equally imposing string player. While the First Sonata is an essay in mellow colours, in the Second Sonata du Pré employs bold contrasts but thankfully avoids the modern tendency to overstate the pizzicatos in the first part of the Adagio affettuoso. As the two move towards a third movement of vivid contrasts there is a moment of particular beauty, and du Pré revels in the big and bold quality that Brahms allows her to bring to the finale.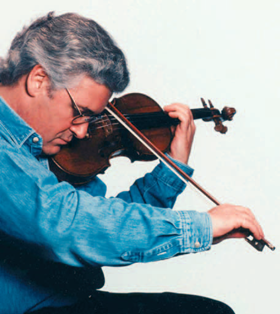 Pinchas Zukerman
'Jackie was the most wonderfully instinctive musician I have ever met. You never felt for a moment that the music she produced did not stylistically belong to that particular work. I suppose you can compare it to a person who can speak many languages perfectly, not only grammatically correctly but sounding just like the people who live in that country. We always seem to be worrying about how Beethoven or Brahms should sound, but to Jackie it just came naturally. Even if she sang Tchaikovsky it sounded like Tchaikovsky, not Jackie.
'Chamber music was a particular joy as it brought friends around her, and we would play a lot of music together just for pleasure. Those years in London with Barenboim and Jackie were so happy that looking back I feel very fortunate to have been part of her existence. She really did enjoy the recording studio and whether the red light was on or off, she played in just the same personal way. It was a time when studio sound was less clinical than today, which is probably no bad thing for Jackie's music making We became very used to Jackie's unorthodox fingering of difficult moments that looked crazy at first; but when cellists try them out they find the passage much easier.
'As a chamber musician she was always a team member, listening more to our view of the music than stating her own. Jackie was a free spirit who had her own musical voice – no one will ever play with that timbre and unique quality of expression.'
Christopher Nupen, whose films of du Pré have added much to our understanding of her, was on hand to record the duo performing the same works in concert and here we comprehend the extent to which a free spirit can go. In mood these performances are entirely different to those of the studio, with tempo fluctuations so liberated from the printed page that to many the shape of the opening movement of the First Sonata is compromised. Sudden impulse causes the tempo to move forward at her first entry in the Allegro passionata of the Second Sonata and the whole piece is played with abundant spontaneity, while Barenboim revels in the richly textured keyboard part. These are highly personal performances that have their critics, although if these gainsayers could transfer themselves to the concert hall that day, du Pré's presence and musical personality would surely have won them over.
Moments of sheer poetry in the Second Sonata are particularly memorable. To show that she was creating interpretations right from the beginning, we can go even further back – to an Edinburgh Festival performance of Brahms's Second Sonata from 1962 when she was only 18. The accompanist was a dutiful Ernest Lush. Compared with either Barenboim version, the raw exuberance of the opening movement shows how much she had refined that view six years later, though we are always aware at this early stage of a strong musical personality with a desire to communicate. Studio versions of the Brahms sonatas were subsequently coupled on disc with Chopin's Cello Sonata and an arrangement of Franck's Violin Sonata.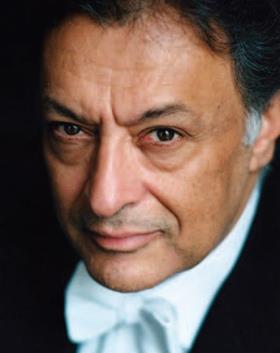 Zubin Mehta
Just to play next to Jackie in the 'Trout' was a great honour for me as a layman double bass player, and so as not to let her down it meant a lot of practice for me. The recording is a straight concert performance without any corrections, and came out of a desire of five friends just getting together with the idea of playing the work. That was the only time I had the opportunity of playing with her in public.
Jackie would always listen to those around her and interact with them when playing concertos. She was just the same in chamber music. If you listen to her concerto performances you find a great deal of chamber music in her playing. She was a fantastic performer who could be very impulsive at times and changed things at a moment's notice, but she was so totally in control of her instrument that she could take such risks and they always worked out. She did have her own view about the 'Trout' that she expressed, but she was a team member
Many will find that the constraints of the studio conditions work to du Pré's advantage: Chopin's delicate Romanticism draws passages of infinite beauty and her cantilena is of exquisite quality. It is probably reading far too much into her playing to detect sadness, though I would have found it there had I not known that these 1971 sessions were her last. A cycle of Beethoven piano trios with Barenboim and Pinchas Zukerman discloses that du Pré made a perfect team member who was content with the composer's subordinate role for the cello here. We seem to be eavesdropping on three great musicians simply playing for their own enjoyment, at times lingering to savour the moment, as in the first movement of the Third Trio, yet equally taking pleasure from passages where tempos dash passionately forward. That mood is borne out by session reports that complete movements were recorded and issued as such.
In the opening of the 'Archduke' Trio, where the cello briefly joins the violin in a duet, you have a moment that has never sounded so wonderfully succulent. Du Pré's tone blends perfectly with Zukerman's sound and she is quite happy to fill in an uneventful bass line as Barenboim revels in the piano's role. Many people have come to appreciate du Pré's unique qualities through the films Nupen made of Schubert's 'Trout' Quintet and Beethoven's 'Ghost' Trio. Through them, we see how her body language conveys the way she felt about the music she was playing. They also provide a close-up of those moments when she felt a desire to introduce unmarked tempo fluctuations, often described as idiosyncrasies.

Nupen explains: 'When released from the strictures of playing within the framework of a concerto she obviously felt greater freedom. Barenboim commented that she was the greatest musical conversationalist he has ever experienced in his life.' She uses a whole spectrum of vibrato to create the colours we hear on disc and the freedom of her right wrist creates the long flowing melodies that are the hallmark of her Brahms sonatas.
We are also left with an ardently expressed Tchaikovsky Piano Trio with Zukerman and Barenboim, taken from a highly charged concert performance that is compromised by the poor quality of the piano, and early BBC recordings that include Bach, Britten and Couperin. Even in those teenage years she played with the same unquenchable instinctive musicality, though in the case of the Bach suites these were performances in the making, as we were to realise in subsequent concert performances. We can only hope that there are more recordings still to be discovered in radio vaults.
Du Pré became such an icon of the finest cello playing in the second half of the 20th century that it is all too easy to forget we are listening to an artist who was still in her early 20s. Had her career continued we would now be looking back as we celebrate her 60th birthday and I would be describing these precious discs as 'early recordings full of youthful spontaneity and exhilaration', and gratefully forgiving her slight indiscretions to experience music making of such ardour. But those of us who were lucky enough to experience her presence on stage – even if only twice – can realise that she was working on a canvas that exceeded our conventional conception of chamber music.
Read: Nupen and du Pré: Golden girl
Watch: A tribute to Jacqueline du Pré
Nupen and du Pré: Golden girl
1

2

3

Currently reading

Group Therapy: Jacqueline du Pré