A thorough knowledge of Baroque repertoire apart from the works of Bach is so important if modern players are to gain a proper understanding of Classical and Romantic works, writes Adrian Butterfield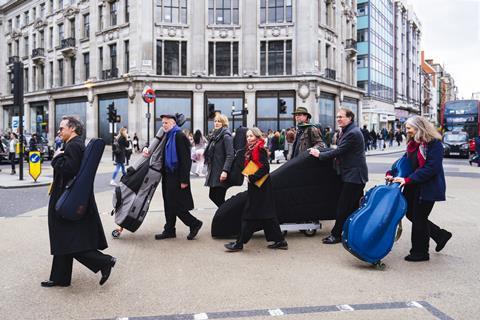 There are few string players who fail to appreciate Bach's genius and hardly any who do not relish the challenge of his solo works. And yet it's scandalous how many students go through conservatoire training without discovering the music of Bach's predecessors and contemporaries, many of whom inspired not only Bach but also composers of later eras. Widening our knowledge helps us to understand his music and the works that followed. So, where to start?
Good editions: There are many excellent urtext editions, but facsimiles of manuscripts and early editions are preferable where they exist. Avoid editions covered with bowings, dynamics and other expression marks. Musicians of the Baroque period didn't need to be spoon-fed that information and manuscript scores, such as Bach's violin solos, are perfectly legible. The Cello Suites are more problematic, as his autograph manuscript hasn't survived.
Repertoire: Have a look at the sonatas and concertos of Biber, Corelli, Vivaldi, Handel, Telemann and Leclair. Corelli's only set of printed violin sonatas, his op.5, is the perfect place to start. These twelve sonatas, published in 1700, became the most popular violin music of 18th-century Europe. A facsimile of the original printing, available online, reveals that like most sonatas of the period it came only in score format (violin and bass).
Harmony: Having the score gives us the starting point in interpreting Baroque music. The bass-line and the accompanying figures (which tell us the harmonies intended by the composer) are essential for interpretation because the music is based on tension and release – the tension coming from interesting and expressive harmonies and the release from the arrival at expected cadences. This is why the music has so few markings, since any expression is a response to the contours and harmonies of the music. The harmonies are also essential for free ornamentation. Thinking harmonically is easy once you've got used to it.
Some brief pointers to consider about other aspects of Baroque style:
Rhetoric: Baroque music is based on speech patterns, so follow the rise and fall of the musical line and ensure repetition is meaningful
Ornamentation: this stems from a desire to be more eloquent! The 1711 edition of Corelli's sonatas was published with ornamentation of the slow movements of the first six sonatas, 'by M. Corelli, as he plays them'
Slurs: diminuendo from the first note, and play legato during the slur but articulate either side
Chord playing: arpeggiate from the bass in four separate notes, not in pairs
'Rule of the down bow': down bows on strong beats of the bar and up bows on weak ones
Vibrato: considered by most writers to be an ornament for special expressive moments right into the early 20th century
Temperament: major 3rds were tuned pure (lower) and 5ths were slightly narrowed, so key colour was much more important
National styles: French and Italian styles were completely different – the French dance-based, the Italian singing-related
Dance: Bach knew how to dance all the important dances of the time, and basic knowledge of their individual characters and expression is essential
I know I speak for my colleagues in the early music world when I say that Baroque music should not be the preserve only of period-instrument performers. But we love playing on these instruments because they teach us so much. A student's Bach playing can be transformed in an instant by using a Baroque bow. And gut strings give us so many subtle colours.
Haydn and Mozart were brought up with Baroque bows – so many of the basics mentioned apply to their music too. During their lifetimes instrument set-up changed and the bow developed alongside changes in taste and style. Coming to them from the viewpoint of Baroque style will give a really fresh perspective!
This article appears in the January 2019 issue of The Strad